I'm sure everybody was filled with sadness that Margaret Jeffries had died early this year. This tribute was written by Wendy Everingham: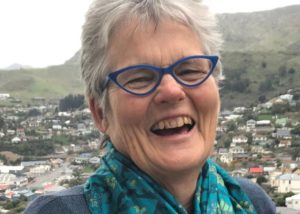 Margaret Jefferies Margaret had two periods of her life living in Lyttelton. The first was from age 6 when her father, the Reverend David Boyd, was appointed the local Presbyterian minister. The family arrived at a pretty momentous time in Lyttelton; the water front strike was in full swing. She remembered being asked at school who her parents voted for!
The family lived in Sumner Road in a lovely two storey period house. At that time, it was the Presbyterian manse. They lived there until 1958 and then headed to Ashburton. Margaret studied at Christchurch Girls High and then went to the University of Canterbury where she achieved a Master of Arts Majoring in Geography, and a Diploma in Teaching.
She was married in 1970, had five children with two sets of identical twins! Her family life was mostly centred in Bishopdale. When her marriage ended in 1995 the charm of Lyttelton beckoned and she lived here until she passed away in January.
My story connecting to Margaret would have been similar to many. She was all about connecting, creating possibilities, knowledge, love and making things happen. She had a clear values-based vision and when she believed in something, she really strived for it.
When I arrived in 2003, she was on a mission to get Lyttelton people to agree on a shared vision that would drive our township forward. A series of community meetings were held and from these meetings the vision statement that drove Project Lyttelton over the years was formed. Portal to Canterbury's historic past, a vibrant sustainable community creating a living future.
Margaret was driven to make this vision a reality and she encouraged many to explore what that meant for them. Project Lyttelton gave them the framework to explore their ideas. She always operated from a place of hope, not fear, and was striving to make a community sustainable on many levels.
One of her earliest projects when she became the Chair of Project Lyttelton was the "Community Angel". This was a forerunner to the Timebank. Our "angel" was someone who could lend a helping hand or ear if you needed something. She pioneered the Timebank and enjoyed experimenting with Lyttelton locals on what that would look like. She was never afraid to ask for anything.
In the early days of the Timebank she encouraged the Tindall Foundation to support this new idea. They did. She asked Air New Zealand to fly Edgar Cahn, the founder of Timebanking to Christchurch to celebrate the 15th birthday of Timebanking. They did.
On a local level she was the driver behind many bold ideas. Harbour Co-op, a proposed wind farm, a biodigester, the organic veggie box scheme, permaculture gardens. Harbour Savings Pools and so on. She was a community social entrepreneur. She'd let people know of her ideas, help develop your own and then create spaces to dream and then make the ideas a reality.
Up until the time of the earthquakes most of her work was focused on Lyttelton. After the earthquakes she focused more on Christchurch. How could Christchurch become more resilient? How could a new hub be created in a more sustainable way? She got actively involved in the Ōtākaro Orchard and explored how the not for profit sector could lead a project in the centre of the city. She teamed with several groups and for some time they worked to make this a reality. This project didn't quite work as she had envisaged but none the less, she still connected to lots of people and many other opportunities arose.
Margaret was also aware that new leaders in the community sector needed more training opportunities. With her teaching background she became involved with the LINC project. Many younger people have since had training in leadership skills. Some have gone onto create social enterprises and others are back in the Not for Profit and local government sectors helping to make a difference.
Economics was also something that Margaret was very interested in. Alternative currencies drove her interest in the Timebank. Her establishment of Savings Pools were also key to this. She was on the Board of Living Economies for many years.
 In 2018 she was recognised for all her innovative work and was awarded a New Zealand Order of Merit – MNZM.
When Margaret was diagnosed with breast cancer, she once again focused her work in Lyttelton. Her parting legacy for the township was exploring what a partnership with the Christchurch City Council might look like managing the Lyttelton Recreation Centre. This is still work in progress but it is becoming a reality. From January 2019 the community begins to take control of the booking system at the Recreation Centre.
Margaret was a very compassionate person. Always keen to help community in any shape or form. Her imaginative facilitation sessions proved useful to the Muslim community as they healed themselves from the mosque tragedy. Even in November 2019 she was off on a mission to South Korea to speak at a conference about how to empower communities in times of disaster. Lyttelton's Timebanking response to the earthquakes was the driver for that.
Right up until the time of her passing Margaret was always pushing boundaries. She wanted her close friends and family to share her dying experience. She shared those precious moments with us all. She also showed that you can die naturally without the trappings of the funeral industry. Her body was buried simply at the Eco Cemetery at Diamond Harbour where she keeps a watch over us all in the harbour that she loved. Margaret Jefferies was a very inspirational leader to many, a fantastic housemate "sister" to Sue-Ellen and loving mother of five and grandmother of eight.