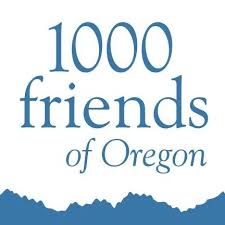 A group formed in Portland in 1974, called the 1000 Friends of Oregon. This group has influenced public policy in Portland ever since. Changes have been incredible at times. When I visited Portland as Mayor there was a flyover in the middle of the City which had been stopped. It hung in the air as a testimony to an unnecessary road, which represented old thinking. There wasn't any trace of any roading engineers who must have been hung out to dry over this outdated decision.
Now one of our Tuesday Club team, Chris Stewart, has sent me this:
Chris, we did it, thanks to you!
Whether you're a member, responded to our action alerts, planted one of our yard signs in front of your home, sent in testimony, or showed up in person for one of the many City Council meetings, you just helped Portland (and the rest of Oregon) make housing history.
After four long years, the Residential Infill Project (RIP) passed 3-1 at today's Portland City Council meeting. Although it was originally expected to pass back when it was introduced in 2016, the extra wait made it even stronger than we could have hoped for. Each time it went before the public to weigh in on, it went back to City Council more remarkable than before.
1000 Friends' housing advocacy is far from finished. Oregon is still short 155,000 homes, primarily for middle- and low-income Oregonians. Gentle infill from policies like HB 2001 and RIP will help solve the shortage, but there's much more to be done.
Many don't know, but 1000 Friends has been fighting the housing fight since our founding in 1974.
Oregon's land use program was established in 1973 with the passage of SB 100. Among other things, SB 100 required the adoption of state-wide land use planning goals. Currently, there are 19. Goal 10 is the Housing Goal: It has been an integral part of the land use planning system — and the work of 1000 Friends of Oregon — since our formation.
The early impact of Goal 10 was remarkable: within 10 years, the residential capacity of the Portland metropolitan area more than doubled — without adding an acre of land. But the zoning and housing options available haven't kept pace with demand and growth.
In keeping with our original plan and in alignment with Oregon's 19 land use goals, we've decided to sunset Portland for Everyone as a program name, but not as an idea. Our work at 1000 Friends on housing, climate and transportation is, has been, and will continue to be focused on Oregon's 241 towns and cities.
For today, making it possible for Portland to successfully accommodate its growing population will help ease housing pressures throughout the rest of Oregon.