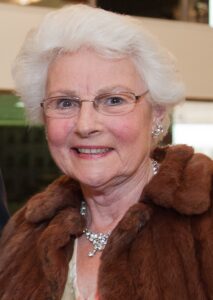 Regulars at the Tuesday Club know that every now and then, Margaret Austin can fit us into her busy diary. She's never turned up once without asking a pertinent and cutting question. I was speaking with one of her family who said that they have to book Christmas dinner into her diary so that she turns up. Margaret is an inspiration in our community. A lifelong activist she has proven that her age isn't about to slow her down.
Recently Steven Moe (who is also an inspiration in our community) interviewed Margaret and in his summary, he wrote:
Margaret was born in 1933 and has lived an extremely full life – she is still involved today in more organisations than nearly everyone who I know and she does it all with the desire to give back. In this interview we hear about her childhood, her memories of World War II, early education, studying at University of Canterbury in the early 1950s, becoming a teacher, what made her get into politics, serving as an MP from 1984 to 1996 and her involvement with various organisations since then including Unesco, as Lincoln University Chancellor and what "retirement" means.
Here's the interview https://seeds.libsyn.com/margaret-austin-on-a-life-of-service.
Thank you, Margaret, for being an inspiration to us all. And keeping us on our toes.