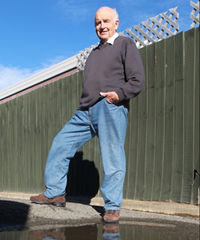 John writes about his nostalgic journey around my old stamping grounds in Southland and Otago.
Spent our first night in Dunedin after driving down from Christchurch on a very quiet SH1 very little traffic. I like Dunedin and it's a long time since we were last there I just wonder how it would stand if it was hit by a big earthquake.
The next day we headed for Invercargill. They have a very good motorway from the city to the airport now which was new to us. As you leave Dunedin there is a big sign showing the Southern Scenic Route which brought memories back to the 1980s after the government's restructuring of the public service when many people lost their jobs from the Forrest Service, Lands & Survey, State Mines etc. All the small towns around the Southern coast were hit badly so the people got together to try to get tourist to come this way instead of traveling on SH1 from Dunedin to Invercargill then on to Te Anau via Lumsden. The road through the Catlins was gravel all the way till you hit the south coast and the road from Tuatapere to Manapouri had a narrow strip of sealed road down the middle. If you met another vehicle you both had to run on the gravel on either side. I had the privilege to work with the people trying to get people to use this route. It was a big battle to get just two signs erected, one at Balclutha and one at Te Anau. Now there's signs all over the place and it's two lane tar sealed road all the way. It was raining when we left Dunedin which turned into a big storm by the time we got to Balclutha where we turned onto the scenic route. We hadn't been there since the road was sealed making driving a lot easier. I still prefer the way it was but it would have been no good for all the tourists that use it now. But it is still as beautiful as ever. The rain was belting down and the gale force wind was blowing like hell. It was wet, windy, wild and wonderful and we had it all to ourselves. ABSOLUTLEY FANTASTIC.
The Southern Scenic Route didn't happen because of action by government or local authorities it happened through hard work by the people living along the route from Tuatapere to Owaka.
We enjoyed the next few days in Invercargill. All the suburbs are looking good with a lot of new housing and shopping centres but the city centre is just run down, its rather depressing. However, they are starting to do something about it. A big block in the middle of the city is being pulled down and the rebuild will be starting very soon. We spent most of our time catching up with old friends who we hadn't seen for many years. We went to see Alice. Alice's husband used to be one of the Lands & Survey farm managers in the Te Anau basin when I was the building supervisor for the department and I often called for morning tea with Alice and Tom. Tom is dead now and Alice lives in Invercargill. I rang her to tell her we were in town and see if it was OK for us to call in to see her. Anne asked me how she sounded I said "The same way as she did 30 years ago". When we saw her she still looks the same as she did 30 years ago. She lives on her own, does all the work herself, she teaches art at the polytech and she will be 90 in a few months' time. When I used to call in for tea on the farm she always had a tin of biscuits and the rule was I had to have a plain biscuit before I could have a chocolate one, when we got to her house she had the kettle on and on the table was a plate of chocolate biscuits with a plain one for me. The old lady still has her wonderful sense of humour and a mind as sharp as it ever was. We didn't see as much of Invercargill and district as we intended to see because we kept meeting people like Alice.
We built our first house in NZ in Otatara on the other side of the estuary from Invercargill. Otatara has become the place to live down there now. Lots of big houses on big sections. Our house was at the end of a gravel road; you couldn't get any further but it's all changed now the road has been extended for the new big houses that's been built. We went to Oreti Beach, there's one place that hasn't changed This is where Burt Munro raced his motor bike and where I went floundering.
We had a drive down to Bluff to the end of SH1 at Stirling Point. In the late 1980s when I was working for the governments Social Impact Unit I got 3 post graduate student from Dunedin University to spend a week in Bluff and tell us what they think. They presented a report to a public meeting. They pointed out that all tourists go to Stirling Point, it's the end of the road but there is nothing when they get there not even a man selling ice-cream. Now when you go there is a big restaurant and a hotel and walk ways, observation platforms. It's well worth the visit. The weather was rather wet when we were there but that's all part of Southland.
We went along the Southern Scenic Route from Invercargill to Tuatapere and stopped at Orepuki. Orepuki was an old gold mining town then got into other industries and a farming centre, quite a thriving town in its day and then it started to die. The last time I was there it was almost dead, a ghost town. Since the road became the Southern Scenic Route someone restored and old house and turned it into a café. Whoever did the work was an excellent tradesman. The café was full and so was the car park. I had a chat with the owner when I ordered our coffee and scones and when we were sitting at our table she came over with four scrap books full of old photos and information about Orepuki and its history. They were amazing. It was something I'll never forget. Orepuki is coming to life again
We went on through Tuatapere to Clifden then turned off to Ohai and Nightcaps where I worked with the unemployed coal miners when they started closing the pits in 1987. The following year the new Coal Corp employed me to work for them when they closed more pits. They gave me a house in Ohai for my office. I got involve in getting a sewerage system installed in Nightcaps back then as well — interesting times. It was good seeing the towns again, life goes on. We went back to Invercargill through Otautau. This time of year you see the southland plains at their best.
Then it was time to head up to my old stamping ground around Te Anau and Manapouri. We went via Lumsden, I wanted to see northern southland with its big paddocks with big flocks of sheep, big herds of cows and big herds of deer and there is nowhere on earth where you see grass as green as it is in Southland. Then on to Manapouri with the old Lands & Survey farm blocks running along both sides of the road. All the way I was saying to Anne – that type of hay barn was built by Calder Stewart's and that one is Kilkelly's and just around the next corner is a house that I got Graham Atkinson to build for me – and on and on I went, poor Anne got that every day for two weeks and she never complained.
We stayed for a couple of nights in Manapouri, I love it there. NZ has many beautiful lakes but for me Manapuri is top of the list. I spent a lot of my working time around there, in fact all the years I worked there I received a good salary for going where tourist pay a lot of money to go. The locals I met knew there used to be the hydro village when the Manapouri power station was being built but none of them knew where it was. I started working there just when the power station had just been finished and I had the job of getting rid of the village so I can remember clearly were it was. Just a wee way up the Hillside road is the Home Creek Nursery who sell native plants. I called in and met the owner Aaron Taylor. I asked if I could have a look around because I built it. When the building of the power station finished there was quite a bit damage done to parts of the native bush in the national park. Teams were sent in to collect seeds and bring them back to be propagated and replant them in the area where they came from. To do this they needed a nursery and that's where I came in. A nursery manager was employed and he told me what was needed and I saw to the building process. It was all high tech stuff which taught me a lot as well. Aaron had no idea that this was the origin of his nursery. He wants to keep in touch and hear more about the history of the area. Te Anau hasn't changed too much. The building where the Lands & Survey and Forrest Service offices were is now a restaurant but not much else has changed. The biggest change is the land around Te Anau, it used to be wild scrub and tussock and now much of it is green grass but the high country is the same and the lakes and mountain are in the same place. All in all, a great place to visit.
The day we left diving to Queenstown we met a very long convoy of buses all coming from Queenstown and going to Milford Sound. They used to stay for the night at Te Anau and go on to Milford the following day but now it's all done in one day, 290km one way, what on earth can the tourist see traveling like this. We have a lot of tourist coming here who are rushed through these beautiful places and see nothing.
Hadn't been to Queenstown for a long time and I won't be going back again, I'll leave it for the tourists. We went through the town and onto the Glenorchy road which is all tar sealed now. It's lovely to drive on but it just makes people drive faster, I don't understand why. Many years ago I met one of the engineers who built the road I knew. Before that the few people who lived in Glenorchy had to rely on the Earnslaw steam boat for all their needs. Glenorchy is a much bigger town now than it was I worked around there.
Thank God Arrowtown hasn't changed much.
Went on to Cromwell which has changed but we've been there often while they built the Clyde dam and since then. When I was with the Lands & Survey I was offered a job when they started building the dam. I got flown from Invercargill to Cromwell in a two seater Cessna aeroplane, we landed on the Cromwell race track. An engineer drove me to the dam site. It had been a while since I worked on a big construction site so I was very tempted. I was given a week or so to think about it but I decided to stay where I was. After all I've seen since I'm sure I made the right decision.
We went on the Alexandra and stayed with our old friends Lynda and Richie. They came to NZ from the UK three weeks before we did and Richie and I worked together for the next couple of years till I went to the Lands & Survey. Richie is enjoying the ideal life for him. His idea of paradise is going to Manapouri, put his kayak in the lake and paddle to the far end and spend four or five days in the bush all on his own fishing, hunting, tramping. Like the rest of us he is getting older so he has bought a new boat with an engine on the back so the two of us had a day down the Clutha River through the gorge above the Roxburgh dam. We explored the cliffs in old gold miner's diggings. Two old men climbing around those cliffs wondering how those miners managed to live there. "Wonderful". Richie is the real outdoors man; the things he has achieved is amazing. He carries on doing what he likes doing. He has spent a lot of his time taking people into the bush, guiding them down the Clutha in kayaks, teaching them the history of the river. He is not going to stop he will carry on as long as he can. He is a great example to all age groups, whatever happens live life to the full.
All the people we I have caught up with are like Lynda and Richie in their own way, People who never retire, they just carry on playing their part in their communities to the best of their abilities, teaching the younger generations, using their years of experiences to the benefit of all. I was having a chat with Richie one night and said that I have worked all over the place, both here and the UK, been there, done that and I never planned any of it, things just happen. I think of all the jobs I've had I only applied for two of them. Richie said – same for me. There's an old saying — How do you make God laugh? Tell him your plans.
A couple of Sundays ago on RNZ Jim Mora interviewed a professor of the ageing process. Jim brought up the word wisdom. The prof said yes wisdom comes with experience. Jim said he had read that your brain shrinks as you grow old. The prof said yes it does and explained that young people use different parts of the brain when they are thinking about different things but when you are old there are gaps in the wires that run between the different parts so old people use all the parts at the same time. He went on to say – When I was young I pushed a cart with one hand, when I got old I couldn't push it with one hand so I pushed it with two hands. That's the most beautiful way I've heard old age explained.
We left Alex and headed home through the Lindis Pass. In those early days the road through the pass went along the side of the hill on the opposite side of the river to where the road is now. It was just a narrow gravel road cut into the hillside with traffic lights at each end. If you just missed the green light you had a long wait till it turned green again. The road that's there now was built to get all the big machinery through from Twizel to the Clyde dam. Anne and I were going through there one day and just about to turn up to the old road when one of the road workers waved me down and told me I could go through the new road. He said we are still working on it and it's not open yet but you can go through and see what it's like. So it's left me wondering all these years — were we the first members of the public to drive through on the new road? It would be nice to think we were. You can still see the old road.
Then we went to see if Mt Cook was still there, which it is so we came home.
We live in a beautiful country and the only way you can see it is go slowly, stop often and look.
————————————————————-
This is just a snapshot of our holiday. For me it's the memories that's important, the many stories that runs through your mind. Stories of the people you knew, the floods. the storms, the rivers you had to drive through and sometimes got stuck, the realisation that if you did get into difficulties no one knew where you were, you were on your own. Memories of special people in a special part of the country at a special time. A time when people's lives were changed for ever and a time when my life went in a completely different direction to the one I'd known.
 I don't know if I will ever get back there again but I hope I do.