A few weeks ago I wrote about Jaime Lerner a visitor to this City a number of years ago. I found him a fascinating man. Well read and a wonderful teacher. I wrote about the treehouse he built himself where he worked each morning where he sat and thought and debated with people who could assist his thoughts.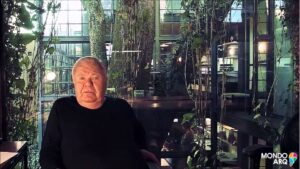 Jaime died last week. Below is an obituary. What it does not cover are his social reforms. He set a goal for his city which was "Curitiba is a City where every child is loved". Imagine if we set this goal for our increasingly divided city. It would influence the design of roading and cycleways. It would influence housing. It would influence an inclusive society.
How about making Christchurch the City where every child is loved?
Here's this great man's obituary.
Jaime Lerner (1937-2021)
The influential Brazilian urbanist Jaime Lerner passed away on Thursday at age 83. He's best known as the father of bus rapid transit, after introducing the network to Curitiba in the1960s and '70s — making the once little-known city a leading example of urban sustainability.
BRT, which prioritized buses and gave them dedicate bus lanes, was a radical idea when Lerner and a group of other young architects developed it as part of a larger master plan to integrate mass transit, access roads and land uses more efficiently in Curitiba. Other global leaders at the time looked to light rail systems, but the city — with a swelling population and increasing car traffic — just could not afford such a network.
The master plan was implemented in the 1970s, when Lerner became the city's mayor, and what resulted was a mobility system that was almost as efficient as light rail, but with lower costs, and that's been replicated by more than 160 cities worldwide. It also expanded green space by reserving areas for parks and forests, in part to prevent urban sprawl. To keep those spaces maintained without incurring a massive cost, the city employed sheep.
Such simple solutions to urban problems that persist in cities today (including Curitiba which has since lost its sustainability edge due to poor governance) earned Lerner respect in the urbanist community, and the title, according to one survey, of the second most influential urban planner of all time — after Jane Jacobs.