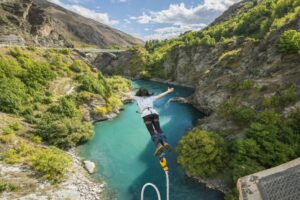 I read this in the Economist last week. It was about a larger-than-life character in the UK who was the first to undertake a bungy jump. He was completely "out there" when he did it. However, what this became was a multi-million-dollar tourist venture in New Zealand. When he did it the cops came and arrested him…..now people pay to repeat his example.
Here's the article:
It nearly didn't happen. The women, in this case two sisters of one of the would-be jumpers, had warned the police, and they had staked out the bridge. The jumpers themselves, who had partied all night and trashed a rather elegant Bristol flat, didn't feel entirely in the pink either. But the stunt had to happen, because the invitations had been sent: "April Fools' Day, 1979, Clifton Suspension Bridge, Bristol. Bungee-jumping at dawn. Morning dress".
David Kirke was ready to go first. He was older than the others by a decade, heavily bearded—though on that day swathed in a scarf, in case his mother recognised him when it all hit the papers—and founder of the Dangerous Sports Club (dsc) to which they all belonged. He was therefore the leader, though ideas for stunts flowed generously between them as they caroused in the pubs and bars of Oxford. This particular one came from a tv documentary about young men jumping off bamboo platforms in Vanuatu, with only a vine tied round one ankle to break their fall. Why shouldn't Oxford students prove their manhood in the same way.
Cluster ballooning was something else he pioneered, piloting across the Channel in 1986 a giant inflatable kangaroo held up by four helium balloons. He sat cosily in the pouch as he drifted over to some fine vin ordinaire on the other side. At 10,000 feet, a jumbo jet had to take action to avoid him. As a Times editorial remarked, "If [the pilot] hasn't acquired a permanent cardiac murmur, a facial tic and a tendency to wake screaming from his sleep, airborne kangaroos must be much more common over the Channel than most of us had hitherto supposed." The police fined him £100 for flying without a licence.
His stunts, more than 80 of them, had never been an adrenalin fix. He had done them because they were new, fun to watch, and showed his contempt for bureaucracy and the grimness of Thatcherite Britain. They declared a philosophy of absolute freedom to experiment, at personal risk. Most people thought the dsc was a mad idea. Was it madder to jump off a bridge, or to live a humdrum life?
During that night in the cells in Bristol, the police kindly brought them the half-drunk bottles of wine they had abandoned by the Clifton bridge. It was a nice addition to his euphoria. He had dreamed for a while of how it might be to jump from a bridge and, instead of dying, bounce back up. Now he had done it, he no longer feared meeting the Man Upstairs. He could bounce back. And bungee's happy message was: anyone could.