I received this press release from Marney Ainsworth this week (she had a big birthday this week, ask her about it). Great to have you back Marney.
Zero emission public transport systems will be key in our battle against Global Warming by reducing our carbon output and reliance on fossil fuels.
Hydrogen Trains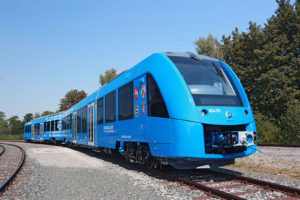 In Germany, there is an outstanding example of how this can be achieved.
Hydrogen trains are being manufactured by French company Alsom and are called Coradia iLint. They have a range of appox 1000 km which is similar to the range of the traditional diesel models.
Not only are they zero emission but they are extremely quiet.Whilst costing more in the initial purchase, the running costs are considerably less making them a financially viable option.
Hydrogen powered vehicles/trains work by passing the hydrogen into a fuel cell which converts the hydrogen to electricity that powers electric motors 
German rail has ordered 14 more of the Hydrogen Trains to be delivered in 2021.
"The greatest threat to our planet is the belief that someone else will save it"-

Robert Swan OBE