Riot police hold down a protester as they disperse demonstrators in the township of Tharkata on the outskirts of Yangon. The UN special envoy for Myanmar called for urgent Security Council action, saying multiple peaceful protesters were killed and injured in the military's worst crackdown this week.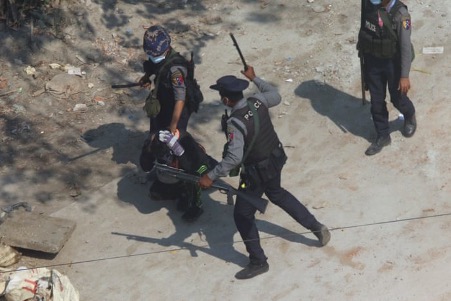 Here's real courage at Myitkyina, Myanmar.A nun pleads with police not to harm protesters in Myitkyina, amid a crackdown on demonstrations against the military coup.
It's people like this Nun who is really on the front line who needs our praise and our supportive outrage. It's interesting to note the response of the Police. This is an outstanding example of putting the correct person in the front line to challenge those in positions of power.