In Newsroom this week was this article: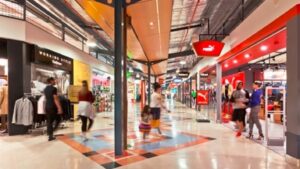 Mall owner Washington Prime Group has filed for Chapter 11 bankruptcy protection, saying the "COVID-19 pandemic proved insurmountable."
Our thought bubble, via Axios' Aja Whitaker-Moore: Malls have been on the decline for years due to consumer demand shifting online. The pandemic has accelerated the trend for some operators grappling with disappearing foot traffic from shutdowns, and struggling tenants who've stopped paying rent or filed for bankruptcy themselves.
The big picture Washington Prime Group operates 102 malls across the U.S.
The company said in a statement late Sunday that a fresh $100 million loan will keep its malls operating during bankruptcy proceedings.
Washington Prime Group is the third major U.S. mall owner to file for bankruptcy during the pandemic after Pennsylvania Real Estate Investment Trust and CBL.
I have always detested large Malls. I accept that there are some pleasant small Malls. Most are revolting and destroy most of the local small shops. I love the Hornby Mall, mostly because it is locally owned and is really responsive to its local community. Most of the rest are just same as same as.
We should start thinking about what they could become!