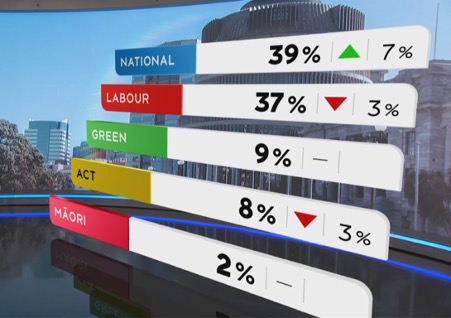 This week the political polls changed the discourse somewhat. Here's what was shown on TV screens… Scroll to the bottom to see a rant by Rosemary about the Greens.
Let's consider how National went down an old black boring hole:
How frustrating when Chris Luxon gave his supposed "state of the nation" speech. What a boring, dreadful, unimaginative, pile of dross it was. Tax cuts. Not only giving tax cuts, but giving them to the top of the pile. It demonstrated the same sort of results of Pavlov's experiment with his dogs. The behaviour is repeating the well tried and dull political formula of promise to reduce taxes.
Bernard Hickey did an analysis of the ramifications of the promised tax cuts:
The $2b hole in Luxon's plan and a missing debt track
So, in summary, Luxon's plan was missing:
$2b/year of revenue reductions that would need to be paid for if debt was not to increase.
a clear idea of whether National wanted its debt track to be lower, higher or the same as Labour's.
what items of cost inflation in public services would be cut to pay for the tax cuts, assuming they were not paid for with higher borrowing; and,
what National would do if it got into power after legislation for and construction of the Employment Insurance scheme and Auckland Light Rail.
The other risks in the Luxon plan
There are other potential issues with the tax cut plan as it currently stands, including:
whether it would increase income inequality, given the vast bulk of the $3.73b in forgone taxes would be distributed to those on higher incomes and to those who own property.
how much the tax deductibility and bright line changes would increase house prices.
how much that would further widen wealth inequality between property owners and renters.
whether the indexation of income tax thresholds would be continual, rather than just this one-off move to 2017 levels.
whether National would look to claw back the extra $3.5b in revenues expected from the Emissions Trading Scheme (HYEFU page 34), which is funding much of the $6b increase in the operating allowance planned for Budget 2022 on May 19;
whether National would unwind the climate spending measures to be announced in that Budget.
whether it would offset the lost fuel levy revenues with extra capital or operational grants to the Auckland Council to offset the revenue hit to its transport spending plans.
whether it would replace the fuel levy with congestion charging; and,
what National would do to offset the congestion and emissions reductions lost by cancelling the Rail project.
Labour being sent a big warning:
I sat and watched a think tank last week where someone was analysing the government's performance. I thought it was summarised accurately by Bryce Edwards:
What is driving voters away from Labour? A combination of social, economic, and political factors has developed over the last two years that would have challenged any government. Ardern's response so far risks an "Autumn of discontent", such as was experienced during the British Labour Government's winter of discontent in the late 1970s.
In that case, British Prime Minister James Callaghan was notoriously aloof and seen as out of touch with voters' experience by refusing to see rising cost of living problems as a crisis. He was famously paraphrased in a Sun newspaper headline: "Crisis? What Crisis?"
With the Prime Minister continuing to deny that the public, and especially those at the bottom, are experiencing a cost-of-living crisis, Ardern is looking increasingly out of touch. And this is providing an easy hunting ground for Luxon. As commentator Martyn Bradbury has quipped: "You know things are bad when Chris Luxon who owns 7 properties can make Jacinda look out of touch when it comes to a cost-of-living crisis."
 
Bradbury also views the decline in the Government's fortunes as woke chickens coming home to roost. He argues there's been a tendency for Labour and the Greens to focus on politically correct issues and not traditionally left-wing ones that advance material concerns in areas like housing, inequality, health, or even climate change.
Inequality is a massive problem according to right-wing commentator Matthew Hooton, who writes today about the outrageous increase in the fortunes of the wealthy due to government policies of the last few years, saying "you do not have to be some sort of communist to think this is a problem".
Here's how Hooton puts it: "it has in fact done unprecedented harm, by presiding over a one trillion dollar transfer of wealth from the poor and young to the old and rich, the worst in New Zealand's post-colonial history. This after promising to end child poverty and reduce inequality."
The government has left behind people like me who have voted left all my life. The only time I did not vote for the Labour Party was last election when I cast my electorate vote for the Greens. I have found the government's obsession with centralised planning really depressing. I have always believed in subsidiarity.
In my life I have worked in technical education, economic development, local government, and community housing. In every area this government has centralised delivery of their services and moved them to be decided in a central system.
Josie Pagani wrote recently:
We are witnessing a global demand for a more moral world. Rules and institutions will need to be updated, because the popular mood is right.
To which I would add that centralising decision making is so 20th century.
I will conclude by repeating what was written by Bomber Bradbury, a solidly left-wing writer, last week:
You know things are bad when Chris Luxon who owns 7 properties can make Jacinda look out of touch when it comes to a cost of living crisis.
Rosemary has to add her tuppence worth:

The Green Party and the regrowing Maori party is taken for granted in politics (so are other minor parties, but I am talking about the left) and barely mentioned except as an accessory to a bigger party.
The Greens are close to 10%, we are not nothing and I know many people who split their vote between Labour and Greens because they want them to be in government together.
Why does the Media focus so much on the major parties, as if we do not have MMP.