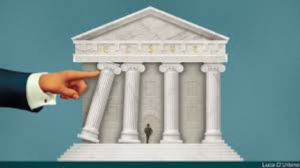 The more I read about the Banks making smarmy public statements on how they are operating brilliantly, and that we do not need a Royal Commission on the banks; the more I think the opposite. Remember they said there wasn't the need for one in Australia, and look what the Commission turned up.
I read a very interesting article during the week where the writer analysed what happened while the current Chairman of ANZ bank was our Prime Minister. Here are a few snippets from this article:
To falsely grow the economy involves using debt, mortgage debt, and masses of it.
When we open the floodgates to immigrants., this creates massive housing and construction demand. It also creates demand and employment across nearly every other sector of the economy, as the new migrants set up home in New Zealand.
There is a lift in house building and all the necessary trades. This flows through to retail and all the brown and white goods to furnish new homes. You create demand for car sales, supermarket sales, restaurants, takeaways, hairdressers, mechanics etc. Professionals like lawyers and accountants, even doctors and dentists, everyone gets a boost in sales and employment. 
Nearly everything was paid for with debt.
Between 2008-2016, 20 to 30 billion a year was spent on construction activity (mainly houses but also infrastructure like supermarkets and gas stations.) 
Mortgage debt over the same period (mostly borrowed off the Aussie banks) went from 133 billion in 2008 (when the population was 4.2m) to 247.8 billion in 2016 (when the population was 4.7m).
In 8 years, we added roughly 500,000 people and nearly doubled mortgage debt.
In this period house construction rose but according to figures from the real estate institute, property values in Auckland went up 91% over the same period, as massive demand from immigrants and property speculators outstripped supply.
With the inflated values on homes, people borrowed on cars, investment properties, renovations, holidays and other luxuries. 
By 2016 household debt, (excluding investment property) had climbed to a historic 163 billion dollars.
In 2018 the top four Australian banks, ANZ, ASB, BNZ and Westpac reported combined statutory profits after tax of $5128 million. That's $580,000 every hour!
$5128 million is almost double the amount of profit the Aussie banks were making pre-John Key's Government being elected.
These numbers demonstrate why there was a price bubble in Auckland in particular. It was in the bank's interest to grow their lending portfolio. It could be stated quite fairly that the Aussie banks fuelled the ridiculous house prices in Auckland, and we let them.
That's why the Aussie banks, and their pawn the Bankers Institute, are targeting Adrian Orr. We finally have a Governor of the Reserve Bank with some balls. He's taking them on, and he has the power to highlight their tactics. They capitalise on the media being under resourced and unable to take them on.
This article also calls for a Royal Commission:
https://www.top.org.nz/why_new_zealand_needs_a_royal_commission_on_banking_insurance_and_finance?fbclid=IwAR1D6tQ3FWhCs7My4otrSonbeG8nUnfssx8M4CdqdvBSxuUONzG6nYbtc8A.