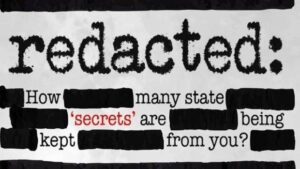 Last week I wrote that I actually have the complete EAG document which was supplied to the elected Council. I also have the redacted copy obtained under the OIA. Much of what has been redacted were fundamental elements of our report. Many parts of our report, which would have achieved either sensible change or considerable savings, were "redacted" from the report. I ask why? I urge journalists to appeal to the Ombudsman. In my opinion many of these redactions were not justified. I also expect our elected reps to have a spine and challenge their executive's twink job.
The OIA is now in disrepute because of precisely what public organisations like CCC deem to be unacceptable to be released to the public. We are really lucky to have an excellent Ombudsman, Peter Boshier. In the article below the author wrote:
By contrast to the government agencies, the Office of the Ombudsman has been unfailingly helpful, polite and prompt.
In the article the author wrote about a staff member in MIQ in Auckland who had a fling with a guest. This was extremely dangerous and irresponsible. There was something written on a note (a mask it turned out) between the two and the journalist asked what it said. He experienced a 6-month delay by both MBIE and the Police who would not release what the note said. It was so obviously putting the whole of NZ security in danger, which I guess is why the Government Departments would not release it. Here's what the note, written on a mask said:
"Txt me [smiley face emoji]", with a mobile phone number.
This sort of bullshit by bureaucrats puts the whole of the public sector into disrespect. It really is time for us to review how OIA queries are handled. Everywhere. In Central and Local Government. The Ombudsman has had previous experience in Christchurch with CCC. He could start here.
This article is precisely why the OIA needs reviewing: https://www.stuff.co.nz/opinion/125433724/two-words-and-an-emoji-what-caused-six-months-of-bureaucratic-stonewalling
https://pointofordernz.wordpress.com/2018/10/03/heres-hoping-guyon-espiner-now-grills-callaghan-innovation-about-its-oia-practices/.