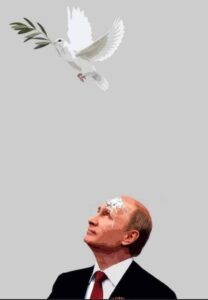 I thought I would start a consideration of what Putin is doing to Ukraine with a quote by the late J P O'Rourke:
Wherever there's injustice, oppression, and suffering, America will show up six months late and bomb the country next to where it's happening.'
Peter Beck sent me this link which is an excellent summary of the genesis of this war, and I recommend this for a read.   Was it inevitable? A short history of Russia's war on Ukraine | Ukraine | The Guardian
Last week Newsroom reported that NZ anti-vaccers are now supporting Putin and Russia. This is yet another indicator of how they are easily manipulated by international electronic media NZ Anti-Vaxxers Fall For 'Tsunami' Of Russian Disinformation | Newsroom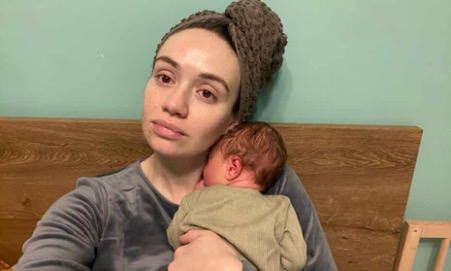 The everyday lives of ordinary Ukrainians was demonstrated by this story of this young woman giving birth to her son in a bunker in Kyiv Giving birth in a bunker in Kyiv: 'I said to him you're a new Ukrainian' | Ukraine | The Guardian.
For Putin, life itself has always been a special operation. From the black order of the KGB, he learned not only contempt for "normal" people, always a form of expendable matter for the Soviet Moloch-state, but also the Chekist's main principle: not a single word of truth. Everything must be hidden away, classified. His personal life, relatives, habits – everything has always been hidden, overgrown with rumors and speculation.
Now, one thing has become clear: with this war, Putin has crossed a line – a red line. The mask is off, the armor of the "enlightened autocrat" has cracked. Now, all westerners who sympathize with the "strong Russian tsar" have to shut up and realize that a full-scale war is being unleashed in 21st-century Europe. The aggressor is Putin's Russia. It will bring nothing but death and destruction to Europe. This war was unleashed by a man corrupted by absolute power, who, in his madness, has decided to redraw the map of our world. If you listen to Putin's speech announcing a "special operation", America and Nato are mentioned more than Ukraine. Let us also recall his recent "ultimatum" to Nato. As such, his goal isn't Ukraine, but western civilization, the hatred for which he lapped up in the black milk he drank from the KGB's teat.
Who's to blame? Us. Russians. And we'll now have to bear this guilt until Putin's regime collapses. For it surely will collapse and the attack on a free Ukraine is the beginning of the end.
Putinism is doomed because it's an enemy of freedom and an enemy of democracy. People have finally understood this today. He attacked a free and democratic country precisely because it is a free and democratic country. But he's the one who's doomed because the world of freedom and democracy is far bigger than his dark and gloomy lair. Doomed because what he wants is a new Middle Ages, corruption, lies, and trampling on human freedoms. Because he is the past. And we must do everything in our power to make this monster remain there – in the past – for all time, together with his Pyramid of Power.
From Newsroom Oliver Hartwick wrote:
From any rational perspective, Putin's attack on Ukraine was a complete miscalculation. But that now makes it our problem.
With Putin's Russia in economic turmoil, with his army facing a protracted war in Ukraine, and with the dictator himself isolated internationally and relegated to Beijing's deputy sheriff, Putin has no obvious way out. Having lost everything, Russia has built for itself after the end of communism, Putin has nothing left to lose.
If Putin has an ounce of self-preserving rationality inside him, he would now latch on to any initiative, such as Israeli Prime Minister's Naftali Bennett's crisis diplomacy.
If, however, he concludes he is cornered with no way out, the only question remaining is whether he will take the world down the abyss with him.
After the events of the past two weeks, no one can rule out the previously unthinkable any more.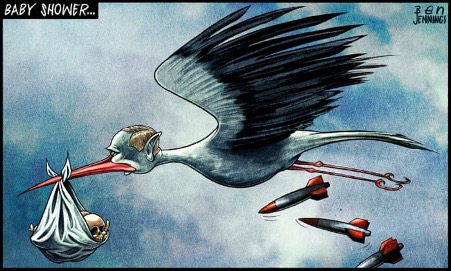 The Guardian produced this cartoon after Putin had ordered the bombing of a maternity hospital in Ukraine.