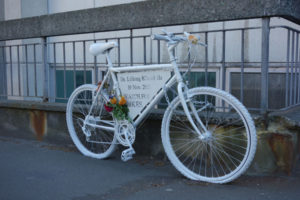 One of the most common types of urban cycle crashes is people getting doored, as in somebody opens their car door carelessly into the path of a person cycling along. When people get thrown into traffic as a result, they may die as a consequence of getting run over.
Regular Tuesday Club attendee Chrissie Williams got very close to losing her life in such an incident a couple of decades ago. I know of two crashes in Christchurch where (young) people died as a result of getting doored (on Lincoln Road and on Curletts Road). The photo is a memorial to Dr. Chris He, who got doored outside Dunedin Hospital and ended up underneath a stock truck.
As such, I really appreciate Uber's recent initiative to alert their drivers when drop a passenger off along a bike route. It encourages them and their passengers to look for people on bikes before opening the car door. Thanks, Uber; that's a cool use of technology. Me thinks that cyclists may be on any route; it doesn't have to be a known bike route before somebody may choose to cycle on a particular street. But it's a useful technique to make drivers more aware, as hopefully it will change their behaviour and awareness in general.