Cabinet Ministers attack local government:
I am worried by the Government's continuing inability to be responsive to the criticism of their proposed 3 Waters legislation. This doggedness could impact heavily on their re-election chances next election. They are only appointing people to advise them who will not rock the boat.
A couple of MPs, both in cabinet, attacked local government during the Christmas/New Year period. Andrew Little criticised the New Plymouth Council for a sewage spill in a river. Unfortunately, as I have said before, in large rainfall situations this happens. It is not ideal, but that's life. The Government has copied Scottish Water with its proposed legislation and said this system is a model which will raise the standards of water systems. Over the past few years Scottish water has been fined considerable sums for sewage spills in rivers.
The second Cabinet Minister was Poto Williams, and I am replying to her misguided comments below.
The Review Panel established by government:
Readers will recall that the Government set up, what I consider, a sham Review Panel to consider what minimal changes they could get away with their proposed 3 Waters reforms, with minimal change to their legislation. They put on that committee the Mayors of Christchurch and Auckland, both former Labour Party cabinet ministers, and several other supporters of the proposed legislation. I think this panel is a sop to the public peopled by mostly Labour Party supporters. It's not permitted to genuinely question anything fundamental. Just read their MOU signed by Minister Mahuta.
On Friday the 28th of January the group of councils, which includes our CCC, which are attempting to challenge the awful proposals coming from the government, met with this Review Panel….
This group is genuinely putting excellent work into identifying alternative solutions to 3 Waters nationally. In my opinion to allocate this group only 1 hour is a demonstration of the total lack of interest, and commitment by the government, or members of this working party, to listen to anything other than what has been proposed. Our mayor is reporting as saying to people at CCC that the technical presentation was "boring".
In an incredibly clumsy technological misstep, the working party members comments on the chat box were available for the presenters to read. In fact, they now have a copy of them. Mayor Campbell Barry of Upper Hutt Council said, 'Sounds like a tax payers union league table on rates' . Most of the other comments related to Treaty and iwi involvement.
 It's common to, if you want to disregard a person or group, slap a label on them that you don't like. "They are a …." Fill in the gap. What this Labour Party mayor was demonstrating was he wasn't there to listen.
He just wanted to dismiss a group, which represents around 1 ½ million New Zealanders as a group of misfits, in his mind by slapping a label on them he doesn't like. I share his view on the Taxpayers Union. But not his covering up for his council's underinvesting in infrastructure for decades and now expected the rest of NZ to bail them out. His commitment is to the Labour Party and not to local government. My query would be is he more interested in his future career as a Labour Party politician or is he interested in finding a solution to an issue which is dividing him from many of his local government colleagues?
Comments made by our mayor apparently showed that she was not especially sympathetic to a group of which her council was a member.
I'd have to say that the behaviour of cabinet members and of this working party demonstrate to me that the Labour Party are going to die in a ditch over this legislation. Those who wish to promote sensible alternatives may have little hope of success with the government. The only place to really operate is in the court of public opinion, which is, by a sizable majority on side.
I have had many Labour Party members say to me that they are distressed about their party being unable to consider sensible alternatives, of which there are many.
Here folks if you thought my opinions above were incorrect, or farfetched, then have a look at this:
The advert below was advertised on GETS (where government advertises tenders) under "future procurement" on the 29th of January and was pulled down on Monday the 31st of January with the wording that the tender had "closed".
It was advertised under: Three Waters Transition – Procurement of external advisory services
Tender Closed
RFx ID :
25117020
Tender Name :
Three Waters Transition – Procurement of external advisory services
Reference # :
Open Date :
Q1 2022
Indicative RFx Release Date :
Q1 2022 [?]
Tender Type :
Future Procurement Opportunity (FPO)
Project Status :
Initial development [?]
Indicative Total Value :
$25M – $50M [?]
Tender Coverage :
Cluster [?]
Categories :
80100000 – Management advisory services 80110000 – Human resources services 80121600 – Business law services 80170000 – Public relations and professional communications services 81100000 – Professional engineering services 82110000 – Writing and translations 82140000 – Graphic design 83101500 – Water and sewer utilities
Regions:
New Zealand
Required Pre-qualifications :
None
Contact :
Jessie Larsen
Please note the "Pre-qualifications" needed are NONE.
Here's what they wrote about what the tender was about in Overview
The Government has established a National Transition Unit (NTU), for executing the Government's decisions on Three Waters reform through a consistent and coordinated nationwide approach to transition. From 1 July 2024, four new water services entities will deliver drinking water, wastewater and stormwater services to people across New Zealand.

From November 2021 to 1 July 2024, the transition from the current system to the new one will take place. The NTU will ensure the transition is efficient, effective and minimises disruption to communities and consumers.

The NTU will deliver a consistent and coordinated nationwide approach to the transition from the 67 councils who are currently responsible for water services to the new system. The NTU will work alongside councils, iwi/Māori, industry and the wider water sector to make the transition successful.

In 2022, the NTU will set up four local establishment entities, which will support the local transition in their area. On 1 July 2024, these four entities will become the four water services entities.

For more information visit https://www.dia.govt.nz/national-transition-unit-three-waters-reform-programme.

In early 2021, (sic) the Three Waters National Transition Unit will undertake a procurement process for external advisors. These advisors will support local authorities and the National Transition Unit until 1 July 2024 to undertake the transition to four new water services entities.

Councils have been advised not to procure external advice themselves, as this will not be funded through the transition budget.

We are currently working through the details of the external advice which will be available for councils. This is expected to include access to panels of specialists as well as funding for local expertise where appropriate.

We will undertake a market sounding to transparently document the procurement opportunities prior to any market process to support business decisions.

Further updates will be provided via GETS when more information is available. Please do not contact the NTU ahead of these updates.
---
In my opinion this demonstrates that the government has no intention of changing and responding to criticism. Or considering alternatives. When a member of the Review Panel responses to technical arguments as being "boring" do we have a hope to change minds?
It seems the government is completely committed to ensuring that our water systems will be taken from us. Without political action we will be powerless to stop this bullying approach.
It also demonstrates that "specialists" will be driving this. The sort of consultants who sit on the boards of WaterNZ and InfrastructureNZ. That's their driver. Money. We will end up paying for this dreadful proposal. The fact that the document says that Councils will not be able to obtain external advice says it all. This is central planning at its most delusional and dangerous best.
Poto Williams rips into Christchurch City Council:
A week ago, Poto Williams was on NewsTalk ZB. She startled everybody by heavily criticising Christchurch City Council and its management of 3 Waters infrastructure. She made comments about the chlorine in her drinking water and the fact that she had to let the glass sit for a while for the water to clear. Firstly, there is no chlorine in the water in her part of the city, and secondly, the bubbles in her glass are AIR which comes from the water being pumped. She made several other incorrect comments. All trying to justify the government stealing our water system.
Another issue she raised was the smell from the sewage plant. That's because there was a fire at the plant, during a maintenance programme, and the solution to remedy this is taking time. This is not about CCC's management of 3 Waters infrastructure. It was an industrial accident. In the Press on Saturday this story was printed https://www.stuff.co.nz/national/127744928/boss-of-fireravaged-wastewater-plant-apologises-for-rotten-smell–which-could-be-gone-in-months.
In it the following comments were made:
The man overseeing operations at Christchurch's wastewater plant wants people who live nearby to know he is sorry for the unpleasant smell continuing to waft from the site.
And he said the rotten odour that pervades a large swathe of the city should be gone in the coming weeks.
Adam Twose is confident the stench will be addressed by about mid-April, when the plant's capacity to treat sewage will likely more than double from its current ability – thanks to a multi-million dollar effort to repurpose existing infrastructure.
This is what staff were faced with after the fire. You don't sort this out overnight. Just imagine the insurance battles CCC will undoubtedly be facing. Just think how insurance companies treated each of us after the earthquakes. A public figure making comments rubbishing the actions of CCC is disappointing, to say the least.
A Labour Party supporter challenged Poto's comments on Facebook and Poto replied. These were shared with me. I sent them to Pauline Cotter (a Labour Party City Councillor) who asked Helen Beaumont, the head of 3 Waters, to comment on these accusations, and these are listed below.
It's disappointing when a Labour Party politician continues to push a dead rat policy on Christchurch city. As a local MP, and a cabinet minister, we expect more from our MPs. However, Poto should not come to our city chanting what people are telling her, in error, in Wellington. She should speak to her fellow Labour Party members on the Council. Or members of her electorate committee who are very angry about what her government is proposing. Just read the letters to the editor column yesterday.
Here's an article which was on Stuff about Poto's comments. https://www.stuff.co.nz/national/127701783/war-of-words-between-politicians-on-water-management-boils-over
Here's Poto's questions and the section printed in blue is the response from Helen Beaumont:
Pump stations built for existing not future capacity,
I think this is a crack at the Aranui and Shirley vacuum sewer areas which is a legacy of the earthquakes and the decision taken around the design of replacement systems in these low-lying areas. The vacuum sewer systems were designed for a standard residential suburban density and the systems are unable to accept the new medium density standards. These systems were designed and built by SCIRT. SCIRT also advised our current Christchurch District Plan that it would be 'OK' to zone part of Shirley as Residential Medium Density –the advice was based on the recommendation to reduce the inflow and infiltration design parameter. However, the actual performance of the systems does not support such a decision and the systems do not have spare capacity. We are therefore advising that these areas should NOT be allowed to develop using the new medium density residential standards.
2. long standing unresolved drainage and flooding issues along Coastal ward,
Again, this is largely a legacy issue where widespread liquefaction and settlement of the land occurred during the Canterbury Earthquake Sequence. While much of the Avon River corridor was red zoned, areas along the coast and the Heathcote River corridor were not. Approximately $80 million will be spent along the Heathcote and the work done to date has already brought the flood risk back to pre-earthquake levels for residential properties. Work is underway on the Southshore bund and erosion control along the estuary Edge.
However ongoing climate change and sea level rise will exacerbate the challenge of living in these areas. We cannot get away from being a low-lying coastal city and we must learn to live with water.
3. $1bn plus debt on water infrastructure without discussion on how we repay it or impact on future rates,
Our Financial Strategy sets out how Council manages it Opex (operating expenses) and Capex (capital expenses) and paying off debt over the period of the long term Plan – this information is all publicly available.
Comment by Garry. The law requires CCC to depreciate its infrastructure and reinvest in it. In a letter to the Editor of the Press on Saturday, David Close, a member of Poto William's electorate committee, wrote:
"Over the next decade, the Council plans capital expenditure of $630m on renewals, $70m on growth, and $130m on maintaining and improving levels of service (Draft Long-Term Plan, Vol 2, page 53). By 2032, the assets will be worth more than $6.9b."
4. health concerns over water treatment plant smell and discharge that doesn't meet consent,
We acknowledge an unpleasant smell due to the fire at our Wastewater Treatment Plant on 1 November 2021. And we apologise for unpleasant odours experienced in the local neighbourhood since the fire. We're prioritising work that will reduce the odour and we appreciate the patience of residents as we do everything that we can to improve the situation.
We keep up to date information on our website. https://ccc.govt.nz/services/water-and-drainage/wastewater/treatment-plants/christchurch-wastewater-treatment-plant/wastewaterfire
We have interim arrangements in place to continually improvement the remaining treatment processes at the plant. While there are ongoing odour concerns it is also important to point out that the wastewater discharge, while not as good quality as before the fire, continues to comply with the conditions of the discharge consent.
5. drinking water quality.
Poto was concerned about cloudy water and the chemicals.
Cloudy water is simply the result of air bubbles and is nothing to worry about. Christchurch's water comes from the bore under pressure and continues to be pumped around the city under pressure. The 'cloud' that slowly dissipates is simply the release of bubbles of air once the water is no longer under pressure.
The source water used for Christchurch is of excellent quality but once removed from the aquifers the distribution network continues to present some opportunities for contamination:
The risk from secure reservoirs and suction tanks where contamination could occur through small unsecured openings.
The risk of backflow – where contaminated water from a swimming pool or some industrial process could be sucked back from a private property into the distribution.
While these risks are being addressed temporary chlorination is continuing to be used across much of the city. This involves the use of a single ingredient to provide the chlorination: sodium hypochlorite. No other chemicals are added to the Christchurch water supply. The chlorine smell can be removed in several ways such as leaving water in a jug overnight or using a carbon water filter.
The introduction of chlorine was in response to the ministry of Health and ongoing revision of regulations and guidelines to ensure the safety of community drinking water supplies.
The areas without chlorine are all captured on the website here:
https://ccc.govt.nz/services/water-and-drainage/water-supply/water-chlorination
You will see that they are mostly out east or in the northwest – generally where we have new pump stations and wells.
6. I would love to hear from council how they intend to resolve these concerns and plan for the future, but council is light on detail and funding proposals.
The Council has Activity Plans and Asset Management Plans for its 3 waters services and these have considerable detail on the programmes, projects and funding for the next 10 years. These have been through a public consultations process and are available on our public website.
https://ccc.govt.nz/the-council/plans-strategies-policies-and-bylaws/plans/long-term-plan-and-annual-plans/long
However, it is also important to note that where we have residual chlorine the levels are mostly down at 0.2 parts per million. We only use 1 or 0.5 ppm where we have identified a risk – such as a cracked reservoir roof.
7. There has been direct funding by govt that I would like to see accounted for or at least see the plan for it's spend, 4 years after it has been provided.
We are delivering on the programme of works funded by the water reform 'stimulus funding' and provide quarterly reports on progress to the Department of Internal Affairs – $40.5 million. The programme management office also provides a monthly report to the Finance and Performance Committee. This is largely being spent on water supply and wastewater pipe renewals, deferred maintenance on our 3 waters pump stations, renewing wastewater laterals, inspecting water supply reservoirs, and improving our asset information. We can give a full breakdown of the projects if you wish.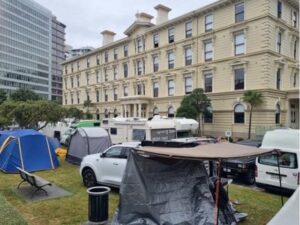 So, my comments to Poto, is ask locals what is happening. Don't believe the nonsense you are being fed by Wellington bureaucrats and lobbyists. Listen to your LEC members.
This lot do not represent the 3 Waters debate:
We don't need these mongrels being anti-3 Waters. They're just plain stupid.