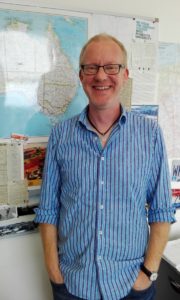 This week's speaker is Jon Shaw who is Professor and Head of Geography at the University of Plymouth, UK. He has written and / or edited nine books on various aspects of transport policy and governance, the most recent of which are Transport Matters (2019) which brought together 27 internationally-renowned scholars to explain why issues of mobility are so important to all manner of public policy goals, and The Transport Debate (2014) where he and co-author Iain Docherty brought the politics of journey-making to life through the day-to-day travel experiences of an 'average' family, the Smiths.  
Over the years, Jon's research has focused mainly on mobility policy and strategy, although of late he's enjoyed being involved in projects on jogging and the accessibility of disabled people from micro-level perspectives. Jon is the Deputy Chair of the European Platform for Transport Sciences, Chair of the Scientific Advisory Board of econex Verkehrsconsult and a member of the Great Western Railway Stakeholder Advisory Board. He has also been a Specialist Adviser to the House of Commons' Transport Committee.  Despite lecturing others about it for years, he's never entirely managed to put sustainable transport into practice, retaining at least for the time being silver status with British Airways.
Jon's comments, having been in Christchurch two weeks, is that he first came to Christchurch on holiday in 2006 and is now back for 2 months as an Erskine Fellow at UC. He is getting around everywhere on a bike (when I rang him to confirm he was speaking this week, he had to stop his bike and find his phone) and on the bus and thoroughly enjoying it. He is teaching students at the university about 'transport geography' – basically, where people go, why and how they go there, and what the implications are.
He really enjoyed Jim Lunday last week and has said that his lecture could be titled" Another love letter to Ōtautahi – this time from an Englishman who's been here all of two weeks'.
It's interesting that we had an ex-Glaswegian last week proclaiming his love for our City. This week it's an Englishman. No wonder they UK voted Brexit when their love is being scattered across the world…