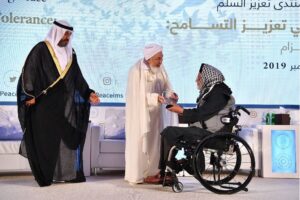 This week we are honoured to have Farid Ahmed who has become internationally recognised for his promotion of peace after the dreadful Mosque massacre two years ago. This photo is when he received an international Peace Award in Abu Dhabi.
Here's what was written about him in the International Press after he had received his award:
Ahmed said following the March 15 attack New Zealand had shown an "outstanding expression of love and compassion".
"It is well respected as an inspiration in this world," he said.
"I see that wherever I go."
Ahmed said he enjoyed spreading his message and travelling the world to do so.
It kept him busy which helped him heal after the brutal loss of his wife and made him feel he was doing good in her name.
"Whatever I did after the tragedy, I did not do it for any recognition or award," he said.
"I did it as a duty towards my fellow human brothers and sisters for a better peaceful, and loving future.
"I did not accept the award for me because I do not see any credit in me, but I took it as an honour to the martyred people who lost their lives in peaceful worship."
Come along and listen to a talk by this beautiful man of peace.