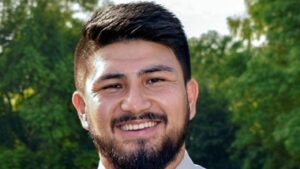 For our first Tuesday Club session for this year, we have a person who was a refugee to this country, Abbas Nazari. Many will recall Abbas speaking to us several times at the Tuesday Club. He arrived here as a 6-year-old, from the Tampa the container ship which was then boarded by Australian military after their ship had sunk off the Australian coast. Our Prime Minister, Helen Clark, held out the hand of welcome to these families, and her Minister of Immigration, Lianne Dalziel, led the negotiations with the Australian Government.
Abbas arrived unable to speak English, and as an 11-year-old he was second in a national spelling competition. He completed his schooling at Burnside High School and went on to study at Canterbury University. He then worked in Wellington at Treasury and is currently studying in the securities studies programme at Georgetown University in Washington on a Fulbright Scholarship. He is focusing on national and international security and has been writing articles for New Zealand papers. He is now back here on holiday.
Tuesday Club folk will remember Abbas as one of those who spoke the Tuesday after March 15.
He is going to speak to us on the last 18 months in Washington DC and his observations as a foreigner to that country. As well as he will make his observations on the new administration.