I received this report from the World Peace Bell Association, of which I am Patron.
The World Peace Bell has been a feature of Christchurch Botanic Gardens since October 3, 2006. In its earlier months its striking design was recognized by local architectural Awards. But we hear all too often.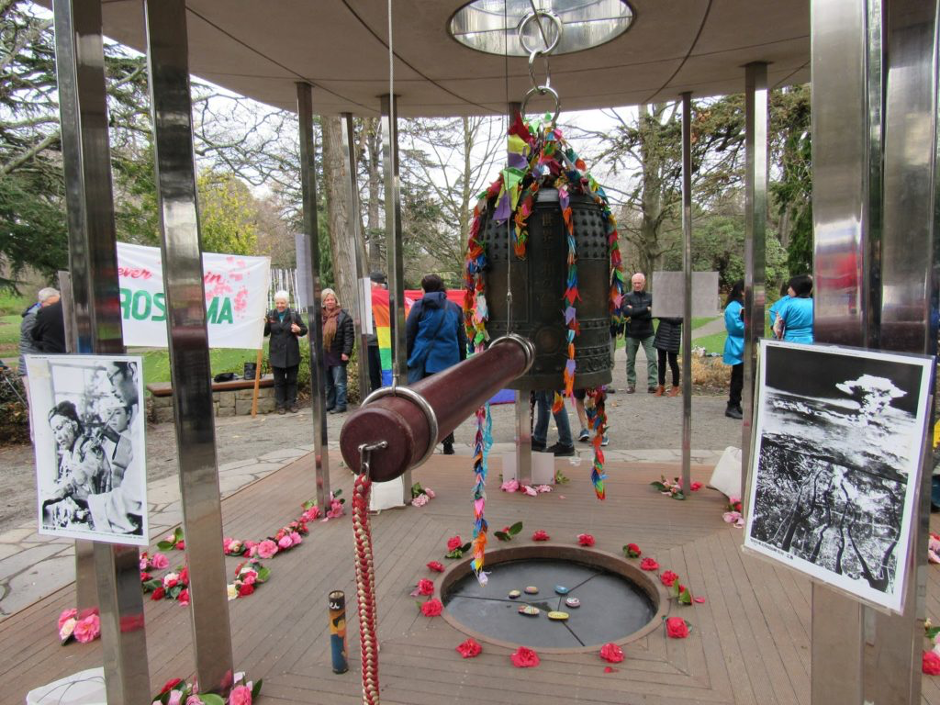 World Peace Bell? Never heard of it. Where is it?
When unveiled the NZ WPB was bell No. 17. Twenty seven bells are presently spread through many countries.
The bell has been gifted to the city. The New Zealand World Peace Bell Association organizes a bell-ringing calendar in an effort to show citizens why the bell is here and what it represents. Occasionally television and other media have reported on bell ringing events.
Recently the NZWPBA presented a detailed MOU to the Council outlining, amongst other issues, responsibilities of Council and our involvement. The document has been approved and filed by Council for future reference.
About two years ago when commemorating Hiroshima Day. One of our members noticed a school group nearby on a visit to the Botanic Gardens. The class, from Hillview Christian School in St. Martins, joined our event and then each pupil rang the bell. The enjoyment and novelty of the occasion was obvious.
Seems obvious, the mission is to get school pupils interested in peace activities. How about encouraging school visits to the Botanic Gardens to include the World Peace Bell?
Another issue is a lack of knowledge of Christchurch being a Peace City since 2002. It is a United Nations acknowledgement approved by the Security Council. It came about when Garry Moore was mayor. The World Peace Bell is a component of Christchurch, the Peace City. New Zealand has otter Peace Cities but Christchurch was the first.
And Christchurch has the only New Zealand World Peace Bell.
WPB events have attracted pleasing attendances. One earlier this year attracted about 200.
Roy Sinclair, founder and Chair of NZWPBA.