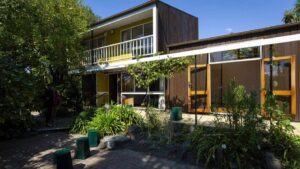 Last week it was reported that Bill Sutton's house, which was in the Red Zone, had been saved and restored. It is now available as a place for an "artist in residence". This is great and a credit to all those who fought for this outcome.
I was a bit disappointed that one name did not appear on the credits. That was Dame Ann Hercus. Ann has worked tirelessly fundraising in this community for decades. For a vast variety of worthy causes. Our house has a full display of art which Ann has encouraged the artists to donate and people like us to purchase.
It is important for a community to thank people like Ann for their boundless energy and their commitment to making this a better place. I have worked on events with Ann and she has an impressive approach, and one you can't debate over!
The restoration of this house and the fundraising which made this possible is a credit to the team who struggled to make it happen. A big thank you in particular to Ann Hercus.
Ann's husband, John, was my best boss ever.
Here's the article: https://www.stuff.co.nz/the-press/news/124461252/art-is-once-again-being-created-at-bill-suttons-former-home.