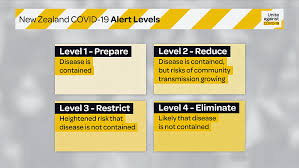 There will be an increasing chorus of businesses and staff calling for Level 2 to be brought on sooner rather than later. I completely understand this. We as a family are having the same discussions about when our bar and brewery will be able to start again. However, let Italy be our warning. On Stuff this week it was reported:
Unions and mayors of some of Lombardy's hardest hit cities now say the country's main industrial lobby group, Confindustria, exerted enormous pressure to resist lockdowns and production shutdowns because the economic cost would be too great in a region responsible for 21 per cent of Italy's GDP.
On February 28, a week into the outbreak and well after more than 100 cases were registered in Bergamo, the province's branch of Confindustria launched an English-language social media campaign, #Bergamoisrunning, to reassure clients. It insisted the outbreak was no worse than elsewhere, that the "misleading sensation" of its high number of infections was due to aggressive testing, and that production in steel mills and other industries was unaffected.
Confindustria launched its own campaign in the larger Lombardy region, echoing that message, #Yeswework. Milan's mayor proclaimed that "Milan doesn't stop." At the time, Confindustria Lombardy chief Marco Bonometti acknowledged the "drastic measures" needed in Lodi but sought to lower the sense of alarm.
"We have to let people know they can go back to life as it was, while safeguarding their health," he said.
Even after the Rome-based national government locked down all of Lombardy on March 7, it allowed factories to stay open, sparking strikes from workers worried their health was being sacrificed to keep Italy's industrial engine rolling.
"It was a huge error. They should have taken the example where the first cluster was found," said Giambattista Morali of the metalworkers' union in the Bergamo town of Dalmine. "Keeping factories open didn't help the situation; obviously it worsened it."