As a society we need to think Regionally about how we kick start our economy. Our region is firstly Canterbury; and then the South Island. We will easily be forgotten by big demanding Auckland insisting that it must be front of the line. All politicians will rush to appease Auckland and surrounding districts. Think back people. Remember how we were treated by Wellington bureaucrats when we were the victims after the earthquakes? They still played to the music of politicians driven by Auckland. If we hadn't had loud Brownlee and the support of two powerful people, Key and English, we would have been forgotten quite quickly.
So, we have to start planning together. All sectors. Public, private and community. It's back to the drawing board time. What tools should we use to nurture a new economy? One which might be quite different from what was there before? Over the next few weeks, I encourage those of you interested in economic development to write and we will publish it. Let's get thinking.
We have to thanks the rural community that has continued to function. Cows have chewed grass and kept producing milk. Who controls our milk system? Should we be demanding more local control?
What place crops and what we do with them?
We have a brilliant engineering base in Christchurch. How can we encourage leaders, like the Angus Tait's of the past, to lead us into new places for all sorts of engineering? How can we ensure that we produce products for our manufacturers so that they are not vulnerable to the sorts of things they have experienced when China closed down?
There are ways of getting our goods to local and international markets. This City owns the sea port, the airport and the data port. We need to challenge CCHL to be one of the leaders in supporting our new economy. It is not in place just to supply income to the City Council. It's there, as natural monopolies, to ensure the population of this City, and region, thrives. I will ask the Chair of CCHL to write an article for the Tuesday Club on what plans they have to assist the new economy evolve which will, hopefully, lead to a more inclusive society.
We are not on this on our own. However, those who are elected to represent us, Central and Local Government politicians of all colours, must work together to produce a framework which support our economy to emerge strong and resilient.
I haven't read in-depth the plans from ChristchurchNZ. Here's a link to the document https://www.christchurchnz.com/christchurch-economic-recovery-package. I will have a careful read this week and comment next week. There appears to be a lot of data which is based on history. The history books just got re-written by a virus, and may be interesting and of some use, but not necessarily instructive. I would welcome the thoughts of others who have a read of this document.
Talking of history, I found this comment by Walter Scheidel professor of classics and history at Stanford University very interesting:
Yet the most important lesson of history endures. The impact of any pandemic goes well beyond lives lost and commerce curtailed. Today, America faces a fundamental choice between defending the status quo and embracing progressive change. The current crisis could prompt redistributive reforms akin to those triggered by the Great Depression and World War II, unless entrenched interests prove too powerful to overcome.
I have been searching around the world for ideas. Everybody is in scramble mode. Wherever there has been a strong tourism industry it is stuffed, at least for the next few years. We need to accept this and re-direct resources to where this workforce can be reassigned.
I was really intrigued to read about Amsterdam. They have been working for a long time to create a new planning framework for their City. This virus just came into being at the right time. The framework they had created fitted nicely into the issues they, and the rest of the world, is facing right now. What attracted me was that they have bought into a planning tool called the "donut" framework. They say:
"The doughnut does not bring us the answers but a way of looking at it, so that we don't keep on going on in the same structures as we used to."
So what is it? Here is how they approached their plan...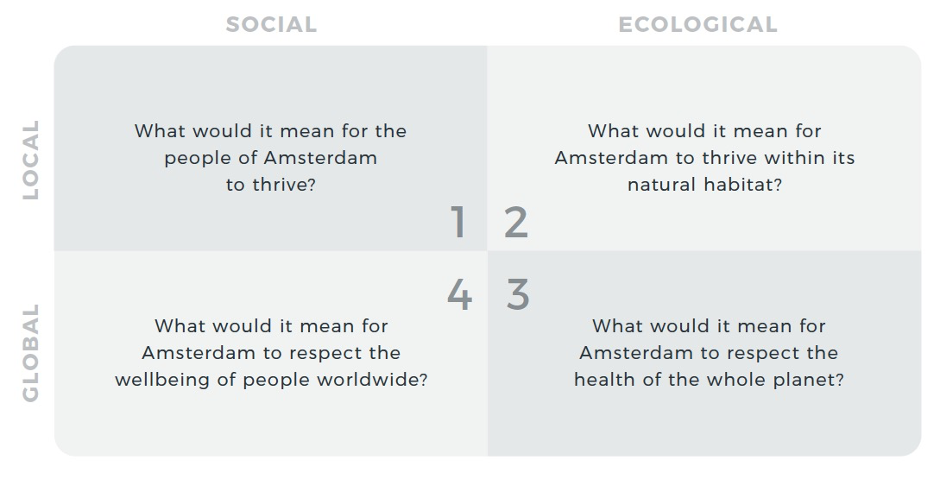 Here are some elements of the donut which are part of the planning process. If you can't read this clearly enough go onto the Amsterdam Council web site on this link https://www.kateraworth.com/wp/wp-content/uploads/2020/04/20200416-AMS-portrait-EN-Spread-web-420x210mm.pdf:
Here is the diagram which sets out how their framework will be implemented: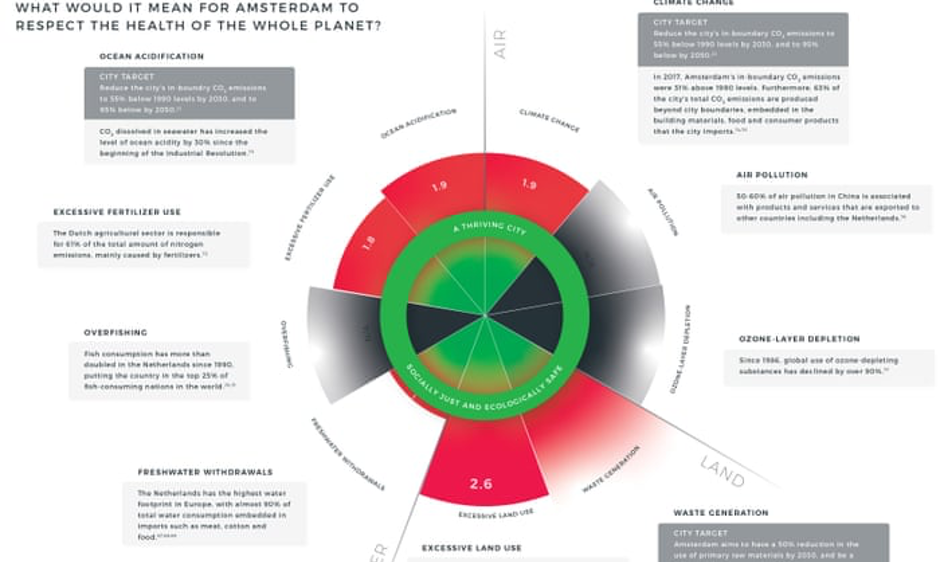 Here's the analysis of their planning framework:
The inner ring of the donut sets out the minimum we need to lead a good life, derived from the UN's sustainable development goals and agreed by world leaders of every political stripe. It ranges from food and clean water to a certain level of housing, sanitation, energy, education, healthcare, gender equality, income and political voice. Anyone not attaining such minimum standards is living in the doughnut's hole.
The outer ring of the doughnut, where the sprinkles go, represents the ecological ceiling drawn up by earth-system scientists. It highlights the boundaries across which human kind should not go to avoid damaging the climate, soils, oceans, the ozone layer, freshwater and abundant biodiversity.
Between the two rings is the good stuff: the dough, where everyone's needs and that of the planet are being met.
I would appreciate people letting me know what you think of this model. Especially when you compare it with what ChristchurchNZ has produced.