Christchurch City Council is about to send a clear message to the Government: 
The CCC report which is being considered by the Council on Monday morning is just excellent. Attached to the report is a fantastic letter (written by her personally) from Lianne Dalziel to Minister Mahuta.
Here is the entire letter from Lianne Dalziel to Minister Mahuta: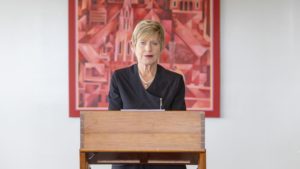 I am sending you this letter after having watched your interview on Q+A on Sunday, which traversed Government's decision-making on the Three Waters Reforms. It was your response to the question regarding mandating the Three Waters Reform proposal that has led me to write ahead of our Council's formal feedback, which we will confirm at a meeting on 27th September. It sounded as if Cabinet could make the decision to mandate next month, which would be a mistake in my view.
In January 2020, Cabinet agreed to continue to support local government making voluntary changes to service delivery arrangements and set a one-year deadline by which the local government sector needed to demonstrate that it had made progress with voluntary reform.
At that time, we were completing a Section 17A review of our Three Waters service delivery, as well as working collaboratively with the Canterbury Mayoral Forum looking at regional and multi-regional models of service delivery options. We have also worked collaboratively with Ngāi Tahu to ensure that any model gives meaning to their rangatiratanga over the takiwā (see our draft shared priorities attached).
COVID-19 intervened, and in April, the Government called for 'shovel-ready' projects in order to keep the wheels of industry turning throughout the country. As part of our feedback, we shared our experience of the post-earthquake cost-sharing arrangements, which included water and wastewater infrastructure(60%/40%). We said in our letter to Crown Infrastructure Partners:
"It would be enormously helpful if Government could be advised to rethink the issue of cost sharing arrangements for Three Waters in the light of what has occurred, and the major benefits that could accrue nationally in terms of our Three Waters infrastructure."
It was in July that we were invited to sign a Memorandum of Understanding (MOU), which gave us access to stimulus funding for Three Waters, in return for a commitment to work constructively together to support the objectives of the Three Waters service delivery reform programme.
We were reassured by the statement in the MOU that any changes would "provide for the exercise of ownership rights in water services entities that consider the interests and wellbeing of local communities…".Balance sheet separation was identified in the MOU, but it wasn't apparent that this was the single-minded focus of the model, (as well as the protections against privatisation such valuable assets would require),until this year. It is this model that strips all councils (and thus their communities), of the control of and decision-making about their Three Waters assets, regardless of the standards they are either meeting or capable of meeting in the future.
You made it clear on Q+A that Cabinet will make the decision as soon as you have all councils' feedback.
Hence this letter.
When you received your first report from DIA (November 2017) on the Three Waters Review initiated by the previous government, you were told that the information they had reviewed suggests that "many councils are delivering high quality water services that comply with requirements, are monitored and managed by capable people, and subject to effective governance and decision-making processes".
Christchurch is one of those councils.
We have invested heavily in our drinking water, wastewater and stormwater systems. I want to share what this means to a large number of our residents by using the example of an issue that has not been resolved despite us raising it at every forum.
We decided to bring forward a major upgrade to our wellheads to bring them all above ground so as to meet the increased obligations imposed after the Havelock North incident. We were required to chlorinate our drinking water, and were gradually removing it, until the regulator stopped signing off on the removal.
We understand our obligations to provide safe drinking water. We always have. Because our source of supply is from our aquifers, we have always taken a multiple barrier approach, which includes a level of testing that far exceeds our legal obligations.
We have introduced even more protections to ensure that we provide safe water. Despite this, we have before us a model that prevents us from requiring the new water delivery entity from working towards or maintaining an exemption from mandatory residual disinfection (as provided in Water Services Bill). This is unacceptable.
It is in fact one of the reasons that our communities are becoming increasingly agitated by the threat of losing all say over Three Waters assets. They know how much has been invested. This will feel like central government is telling them that they are not entitled to value the quality of the drinking water alongside its safety.
We also have a serious issue with the inclusion of stormwater. In the MOU we were told that the delivery of drinking water and wastewater services was the priority, with the ability to extend to stormwater service provision only where it would be "effective and efficient" to do so. There has been nothing provided to us to date that in any way substantiates such an approach. I will deal with this when I write formally. 
In summary, I believe the multiple calls for a pause in the reform process have really arisen in response to the proposed model, along with the order of reforms. There is no question that the future for local government needed to lead these and the RMA reforms. Our communities were told they would be consulted after you had led a public advertising campaign which would explain the reforms. You already have my views on that advertising campaign. If Cabinet were to mandate, when it was you who indicated that we could opt out after consulting with our communities, there would be a significant loss of trust.
There are other ways of bringing about meaningful change and introducing co-governance.
As I said, Councillors will be considering these issues on the September 27, but I didn't want to leave you with the impression that we have not been working hard to engage with the reform process and have done so in good faith from the outset. We are expecting that good faith to be honoured.
Ngā mihi nui
Hon. Lianne Dalziel , Mayor of Christchurch 
Here is a link to the staff report. Do have a read:  https://christchurch.infocouncil.biz/Open/2021/09/CNCL_20210927_AGN_7280_AT_EXTRA_WEB.htm.
A number of the Government supporters have argued that water could not be privatised: 
I am certain that this Government has no intention of allowing privatisation of water. However, to get this proposed structure through the Government will have to either remove Section 130 of the Local Government Act which is there to prevent removal of water from local government. Or the Government will have to require Local Government to consult with ratepayers. And we know what the result of this consultation will be. Just look at the Christchurch City and Waimakariri District Council's surveys of ratepayers. Thousands surveyed. Massive majority against handing water infrastructure to Central Government vehicles.
The Invercargill City Council asked DIA the following question about privatisation: 
The Prime Minister made comment at the LGNZ Conference that privatisation of 3 Waters assets would not happen under her watch. Are Council's to infer there is a risk of privatisation under a different Prime Minister or different Government? Can the proposed provisions to protect against privatisation of assets by the new entities be removed by future legislation?  
The Department of Internal Affairs replied:
It is the government' policy that water services entities should remain publicly owned. To this end the government will include strong protections against privatisation in enabling legislation. This will include a provision that any proposal for privatisation would need to be endorsed by the Regional Representative Group (by at least a 75 per cent majority) and then put to a public referendum (that also requires at least 75 per cent of votes to be in favour of the proposal for it to proceed).
The next part of the answer was the only one an honest bureaucracy could give:
The government cannot prevent a future government from introducing legislation to Parliament to remove such protections. A future government wishing to remove the protections would have to persuade a future Parliament of the merits of doing so against the arguments that would be made not to privatise.
If you think this is unlikely. Think again. What say we have an Act led government in the future which is committed to "efficiency". They wouldn't think anything of calling for the 4 water bodies to become "competitive". Then we could end up with privatisation of our water and outfits like Coca Cola owning our water providers. How does the "Te Wai Pounamu Coca Cola Water Authority" sound?
If this seems far-fetched, then consider what was sent to me by Diana Shand this week. In Australia, because of the highly variable rainfall patterns since the mid-1990s, governments have implemented a program of national water reform.  The most recent agreement, the National Water Initiative (NWI), was signed in 2004. 
The Productivity Commission report  has been assessing the progress of governments since 2017 towards achieving the objectives and outcomes of the NWI. It also provides practical advice to Australian governments on future directions for national water reform.  The commission made many findings, but one is sobering and a warning to New Zealand. It was:
A renewed NWI should emphasise the purpose of water trading and markets as a tool within a water resource management framework to increase efficiency.  
There it is, in its stark glory, "water trading" and "markets" would increase efficiency. That's what would be possible if there were only 4 water agencies which were dislocated from the communities they were supposedly serving. Not if there were several regional structures.
Could Council's choose to "opt out" of the proposed reforms? 
Invercargill City Council asked this question of DIA:  If some Local Authorities start opting out of the new entities will the Government still be able to achieve the proposed outcomes from reform? Will the move to new entities end up being mandated if only some Council's stay in the new entities and some decide to opt out? 
The reply was:
It is the Government's view that all communities should be able to access the benefits of reform and that achieving this requires comprehensive participation by local government. If some territorial authorities do not participate, this could prevent other communities from benefitting. Following the completion of its current period of engagement with councils, government will decide how to proceed with reforms including whether or not it will be acceptable for some councils to opt out.
The last part of the reply is sobering. "…whether it will be acceptable for some councils to opt out". Obviously, this is not an open consultation. Reflect on a possible scenario of if we were told by our council that they were going to do something regardless of whether we the ratepayers thought it was acceptable or not. They would be voted out in the next election.
Ignore this warning at your peril Labour politicians in Central Government.
Are alternative solutions really on the table? 
In an article in Newsroom on Wednesday it was announced that the Government is considering calling in Local Government leaders and Iwi reps to consider other models for the application of 3 Waters reform.
DIA stated that they are consulting a range of alternative solutions. They acknowledged the various alternatives being discussed include a cooperative model, a modified council-controlled company, a smaller regional approach, and central government funding of local government infrastructure similar to how the NZ Transport Agency funds roads.
"Some of these have been tested and, along with others, are considered unlikely to meet the Government's reform objectives," they said.
How can we, the people of New Zealand, trust the consultation words if somebody in Wellington decides what would work in an area, or not.
DIA were reported as saying "all the options – including the Government's preferred model – have pros and cons. From DIA's perspective, there are four key challenges to overcome:
the large number of small water service providers, which limits opportunities for efficiencies of scale in delivering Three Waters services.
existing political incentives and governance structures that are not conducive to long-term management and decisions.
the sheer affordability challenge associated with addressing billions of dollars in infrastructure deficit that has been accumulated over decades; and
lack of effective economic regulation, and Ministry of Health quality regulation that has not been adequately enforced.
Let us consider each of the above 4 pro's and cons in turn:
What is to stop a regionally collaborative model being developed which small authorities can use when they have the need for services and purchase them from a larger regional model?
What the hell does this sentence mean? A local "political incentive" would be to comply with the regulations set by the water authority and ensure that it is in the Council's long-term plan. This is more of the neo-liberal nonsense which presupposes that "board" members make more informed decisions than elected reps.
Just tell us where the infrastructure deficits really are. Stop generalising. Allow these supposed deficits to be investigated and analysed. Subject these places to serious review by experienced professionals. When any organisation states that the need for future investment will be between $120b and $185b I apply a large discount figure to either of the numbers.
This is what the new water authority has been established for. Should somebody somewhere point out that part of the problem in the past has been poor monitoring by the Department of Health. This was especially the case in the Hawkes Bay.
In this article Newsroom considered 5 alternative structures. Have a look at them in this article:  https://www.newsroom.co.nz/pro/water-reforms-govt-offers-olive-branch-to-mayors
Mike Yardley wrote something that, for once, I agree with:
Mike Yardley wrote:
I sought clarity from Local Government Minister Nanaia Mahuta, as to the reliability of these financial assumptions. Her office instructed a Department of Internal Affairs spokesman to respond, who admitted that "any analysis seeking to estimate costs and revenues over a 30-year period will include a degree of uncertainty and may underestimate the investment required. However, any increase in costs is likely to be significantly greater without reform."
I think it's time for an accountant, rather than a fortune teller, to analyse the much bandied about numbers. Anyone who makes a comment like any analysis seeking to estimate costs and revenues over a 30-year period will include a degree of uncertainty and may underestimate the investment required. However, any increase in costs is likely to be significantly greater without reform." is treating local government as if they need central government intervention to get them thinking correctly, i.e., like them.
I have always been suspicious of any budget number over 3 years out. It is near impossible to predict engineering improvements and new ways of managing networks so far into the future. The impact of scientific research will also continue to play a significant part in changes in the future. Some will add costs. Some will save money. All will seriously impact future costings. To quote numbers 30 years out is well beyond a "degree of uncertainty". It's fiscally irresponsible.
Here's the article:  https://www.stuff.co.nz/national/politics/opinion/126437674/suspend-the-three-waters-reforms-the-numbers-look-ropey.
Local Government New Zealand has let its Local Government membership down badly: 
In the middle of this year Local Government New Zealand (LGNZ) signed a "Letter of Agreement" with the crown. I spent years on LGNZ's board, and I would have resigned rather than sign anything of this nature. It effectively has garrotted them. It explains just why LGNZ has been so hopeless in the debate on the proposed model. It's because they signed their own death sentence. I really wonder who the hell was advising them.
It's a typical document produced by lawyers. I won't quote it all, but it includes:
that there are safeguards (including legislative protection) against privatisation and mechanisms that provide for continued public ownership.
Partnering principles:
The Crown and LGNZ each wish to conduct their working relationship with the other party in relation to, and throughout the period of, the Three Waters Reform Programme in good faith and in accordance with the following objectives and principles:
shared intention: the shared intention of supporting the Three Waters Reform Programme, including ensuring a smooth transition and successful implementation of the Three Waters Reform Programme; (there were others, but I have highlighted this one as it commits LGNZ to supporting the Government programme).
The document then states:
LGNZ considers the Three Waters Reform Programme is in the national interest of local government and the communities that it represents.
LGNZ commits to supporting, endorsing, and promoting the Three Waters Reform Programme.
LGNZ then undertakes to:
(a) supporting the case for change by:
(i) publicly supporting the position that there is a sufficient and evidence-based national case for change, including that the current approach to three waters service delivery is not capable of delivering the outcomes required in an affordable and sustainable way into the future.
(ii) noting the analysis supporting the Crown's preferred approach to reform has been tested through the design process, and expressing the view that the proposed model design and approach to reform is sound, appropriate and beneficial when viewed as a whole at a national level; and
(iii) assisting LGNZ's members to understand the reform-related information being provided to them by or on behalf of the Crown, how the reform is intended to work and the impact it is likely to have on local authorities and the communities they serve, including throughout the transition period
The Crown undertakes to:
supporting LGNZ and the local government sector to actively engage in the transition process and to working through the remaining questions and further policy detail with LGNZ with a view to supporting a smooth transition to, and successful implementation of, the Three Waters Reform Programme.
endorsing the Three Waters Reform financial support package announced by the Government (as contemplated in this Heads of Agreement).
if, after the end of the period referred to in clause 3.2(b), the Government decides to adopt an "all in" legislated approach to the Three Waters Reform then LGNZ agrees that it will accept such a decision on the basis that:
(i) "all in" participation of local authorities is needed to realise the national interest benefits of the reform.
(ii) such acceptance does not imply that LGNZ supports such approach.
(iii) LGNZ will not actively oppose such approach. and
(iv) LGNZ may publicly express its disappointment that the Government has considered it necessary to adopt such approach. (d) leading and supporting the local government sector through change arising from the Three Waters reform
The Crown then undertook to provide a financial package:
Three Waters Reform financial support package be provided to local authorities, comprising:
(a) a "no worse off" package which will seek to ensure that financially, no local authority is in a materially worse off position to provide services to its community directly because of the Three Waters Reform Programme and associated transfer of responsibility for the provision of water services (including the transfer of assets and liabilities) to the Water Services Entities; and
(b) a "better off" package of $2 billion which supports the goals of the Three Waters Reform Programme by supporting local government to invest in the wellbeing of their communities in a manner that meets the priorities of both the central and local government and is consistent with the agreed criteria for such investment set out in Schedule 3 of this Heads of Agreement.
My comments on this Letter of Agreement:
This document is amazingly one-sided. LGNZ is totally at the mercy of the Crown.
There is a Notice of Motion coming before Christchurch City Council in a few weeks proposing that CCC pulls out of LGNZ. This reflects an opinion felt by many councillors around New Zealand. This agreement was signed by the LGNZ National Council.  I would have to ask how widely it was consulted with the members of LGNZ who pay the subs.  
Even if it was widely subject to consultation its conditions are dreadfully one sided. Each day more and more flaws are identified with the proposed new structure. If members knew that the $2b "better off" package would be paid for by borrowing on the back of assets which have been handed over to the proposed 4 water authorities, would they have agreed with this?  
I know some Regional Councillors feel this is acceptable. If they were to lose the assets they hold in trust for ratepayers, they may think differently. In my opinion, shared by many ratepayers, this is theft on a major scale. It's a "we'll take your assets, borrow on their net value, and hand you back 30 pieces of silver" model. It is political subterfuge at its worst. 
Having read this LGNZ agreement. Let us consider what Regional Council's think about 3 Waters: 
Regional Councils monitor water standards. There are a small number of unitary authorities (both local authority and regional government) which have water infrastructure. The rest have no participation in the operation of 3 waters infrastructure. It was therefore surprising that last week the Regional Government sector supported the case for reform.
 Regional Councils around New Zealand agreed to:
1. Endorse the decision made by LGNZ to enter into a Heads of Agreement with the Crown and in doing so support the national case for change.
2. Endorse the objectives for the Three Waters Reform process that have been agreed between LGNZ and the Crown as reflected in the Heads of agreement.
3. Note the importance of the regulatory agencies working together to have an integrated approach to regulation of the Three Waters sector.
4. Encourage individual regional councils to have regard to the joint Three Waters Reform objectives when considering how they undertake their work as an environmental regulator.
They also noted:
LGNZ has recently entered into a Heads of Agreement (HOA) with the Crown in which the parties have agreed to a number of shared objectives relating to the Three Waters Reform process. 
The principal objectives include: 

a. That there are safeguards (including legislative protection) against privatisation and mechanisms that provide for continued public ownership 
b. significantly improving the safety and quality of drinking water services, and the environmental performance of drinking water, wastewater and stormwater systems (which are crucial to good public health and wellbeing, and achieving good environmental outcomes); 
c. ensuring all New Zealanders have equitable access to affordable three waters services and that the water entities will listen, and take account of, local community and customer voices; 
d. improving the coordination of resources, planning, and unlocking strategic opportunities to consider New Zealand's infrastructure and environmental needs at a larger scale; 
e. ensuring the overall integration and coherence of the wider regulatory and institutional settings (including the economic regulation of water services and resource management and planning reforms) in which the local government sector and their communities must operate 
f. increasing the resilience of three waters service provision to both short-and long-term risks and events, particularly climate change and natural hazards; 
g. moving the supply of three waters services to a more financially sustainable footing, and addressing the affordability and capability challenges faced by small suppliers and local authorities; 
h. improving transparency about, and accountability for, the planning, delivery and costs of three waters services, including the ability to benchmark the performance of the new Water Service Entities ; and 
i. undertaking the reform in a matter that enables local government to continue delivering (in a sustainable manner) on its place-making role and broader "wellbeing mandates" as set out in the Local Government Act 2002. 
As I read this agreement, I was reminded that when I became mayor of Christchurch, I was a big supporter of Regional Councils. I ended up believing in unitary authorities. I found them consistently hopeless to deal with.
I finish this section with a heavy heart despairing that some Councils seem to not see the massive potential disaster of these centralising theft driven reforms. My heart is lightened by the brave councils, like Christchurch, that are turning their backs on these dreadful proposed 3 Waters reforms. 

Our challenge now is to challenge the Government to support local government identifying local solutions which we can all live with. I'm prepared to participate in that debate. If Government, in my mind foolishly, decides to press on with the currently debated proposals there will be widespread uprisings across New Zealand.