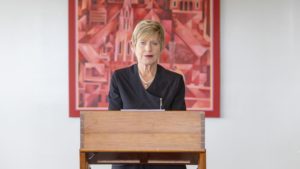 In the Press on Saturday was this article https://www.stuff.co.nz/the-press/news/300059512/christchurch-mayor-lianne-dalziel-taking-leave-of-absence-due-to-husbands-health.
It was a deeply personal media release by Mayor Lianne Dalziel. Basically, she was informing the City, that her husband is dying, and that she intends spending whatever time he has left with him. Nobody would question this. We have all had to deal with similar situations. It is a painful, but special, time for all whanau involved. Maximising the time spent with a dying person is precious. It's an especially difficult time if you hold public office.
Any decent person, or newspaper, would forget any differences with whoever is going through a crisis, and wish them all the best. Just as we all have for Todd Muller.
Not the Editorial team at the Press. The article, having printed the Mayor's personal comments, then delved into a recent matter between the Mayor and Professor Brady. The comments in Parliament by Professor Brady were, from my perspective, a dreadful accusation which any of us who know Lianne would say was so untruthful it was laughable. Lianne had refuted them with great clarity.
That should have been the end of it. Not the Press, they then moved onto the SFO investigation into campaign funding. This was just plain nasty, and disappointing. This is the sort of junk we would expect to read in the UK Sun.
At this time in Lianne Dalziel's life she needs support and aroha. The City residents need to respect their special time together and support them. Is the Editorial policy toward our Mayor so toxic that they can't even be humane in her hour of need? This level of hectoring is the reason why many good people, who could add hugely to public discourse, refuse to stand for public life. They can't be bothered being cut apart by half-witted journalists, driven by their Editors. This sort of writing is also the reason why people give up political life.
The Mayor and her husband deserve an apology from the Christchurch Press editorial team for behaving in such a base manner at this time in their lives. It must be a public apology. Whoever drove this article in the Editorial team should look into their mirror and ask themselves if they were in the same personal position how would they feel if they were treated this way.
I hope they will be decent enough to admit this was a serious example of a lack of judgement.