Comments from the Guardian: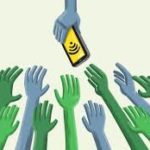 The pandemic is a powerful reminder of the impact of the digital divide. It is building the case for treating internet access as a public utility: an essential service that needs to be properly regulated and buttressed by the state.
In the UK, the government and major telecoms firms have agreed to remove data allowance caps on broadband services, avoid cutting off people who can't pay bills and offer generous new mobile and landline packages, with more data at low prices or free calls. In the US, some providers have agreed to maintain service to those who fall behind on payments, while companies from Belgium to South Africa have upped data limits.
The World Wide Web Foundation has made other sensible recommendations, including zero-rating websites for official health organisations and other essential government services, so that they don't draw from users' data plans – ensuring access to the most important, and reliable, information.
These are all good and positive steps. But they address a problem that has been highlighted and exacerbated by this crisis, not created by it. When the threat posed by coronavirus has ebbed, the digital divide will still need to be closed.