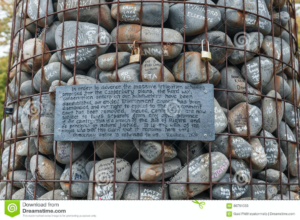 I received this query from Diana Shand who is asking a good question. Here it is: One question I would love answered, and perhaps the Tuesday Club folk can help – When will the stone cairn in the Square be removed?
I thought it was all about having democracy at ECan. We have that now. Why can't it be removed now? Who should I ask to get it removed?
I think this cairn could be moved to somewhere else (maybe outside Smash Palace…) to remind people, for ever, that democracy is a fragile flower and it is destroyed by politicians if they so desire.
As Winston Churchill once said:
"Democracy is the worst form of government, except for all the others."

I do wonder what old Winnie would have thought about President Trump?