Tom McBrearty sent me this email which he sent to his local supermarket. I am appalled at how awful people are toward people who are providing an essential service. Good stuff Tom. It is important that we say "thank you" to those who are keeping our society functioning at this time.
Thank you!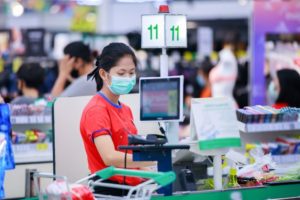 Yesterday I called your store customer service department regarding opening hours. Your service person delicately asked if I was old enough (good song) and as a serial denier of age I had to admit I have had a gold card longer than the entry age to attain access to school.
She suggested as a result I come in around 7.30 am. In the morning.
Today I did.
It was somewhat of a surprise to find such a long line of various genders some of whom obviously had access to quality age reducing surgeons making them look remarkably young.
However, we were divided into two rows. Ha, age before ageless. That caused some inwards mumbling however I felt like a celebrity being allowed to enter the privilege castle. Bit like night club entry ala 1970.
Well what a welcome
A smile
A hand-wash
A permission to enter the inner sanctum
Then, wahoo, food, goods, empty trundler corridors, apart from the odd two shoe shuffler smiling whilst intensely ignoring the list carried in the other hand.
In addition, there were staff loading shelves guiding, answering questions and advising the person who adds new meaning to a "male look", e.g. me!
Having selected the wrong size trolley (ignoring list you see) I arrived at checkout to be greeted by Laura N on lane 10 (nope not great memory, on the ticket) with a smile in the eyes, a cheerful voice and obtaining a replacement larger trolley.
This is long way of saying thank you. Very sincere thank you.
By all means share with staff, all of them deserve recognition and respect.
Take care of each other. The grumps are far outweighed by the gray grateful and the other age groups that cover all generations, all genders who appreciate what you all do, every day.
Kind regards
Tom McBrearty