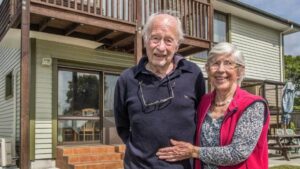 Alan and Joan Sleight took IAG to court and years after battle after battle in court, they won. Now IAG are challenging the costs awarded by the Court and these old people will continue to be harassed by their insurers well into their later years.
Here is the article which recorded their court battle being successful: https://www.stuff.co.nz/business/123266222/elderly-couple-wins-drawnout-legal-battle-with-insurer-iag-over-earthquake-repairs.
The details of the case are set out below: https://mcelroys.co.nz/sleight-v-iag/
How many people gave up with their insurance company? However, here was a courageous couple who didn't accept their insurance companies ruling and stood up and challenged them. Successfully. Then the low life's who run the insurance company decided to appeal against the costs awarded against them by the judge when he ruled in their favour. The insurance companies had spent more than a couple of million on their own legal bills.
And insurance executives wonder why people in Christchurch see them as lower in the pecking order than a hard working gang member.