In 2018, 24 cabbage trees were brazenly poisoned on the causeway section of the Christchurch Coastal Pathway. Let's chip in to replace them.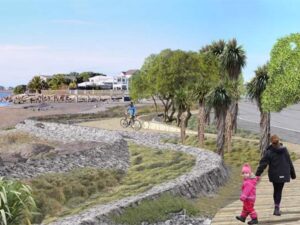 In 2018, something very bad happened: someone, presumably in the dead of night, brazenly and callously poisoned 24 cabbage trees/tī Kōuka on the causeway section of the Christchurch Coastal Pathway. The trees all died and the poisoner was never apprehended. The neighbouring Mt Pleasant community and the rest of Christchurch were deprived of a magnificent vista – a beautiful grouping of trees framing idyllic views of the estuary – by the actions of one aesthetically-stunted individual.
With their sculptural forms and spiky leaves, cabbage trees are one of the most distinctive and beautiful New Zealand tree species. I want to restore what was lost by fundraising for 24 replacements. The Christchurch Coastal Pathway Group, which is developing the shared path out to Sumner, has given their blessing for the cabbage trees to be replanted. But we need your help.
Trees for Canterbury, a local, community-minded nursery, has kindly agreed to provide the trees at trade price. All up, we need $633.60, or $26.40 per tree. If you want to sponsor a tree, please donate the full price (you'll get a great sense of ownership seeing it flourish in the years to come), but any contributions would be gratefully received. By donating, not only are you helping thwart the malicious intentions of a misguided individual, you're also helping fulfill the original design brief for the pathway and further enhancing the beauty of the environment.
All donations will go towards the purchase of the trees. Once the funds have been raised, I'll organise a community planting day to say thanks in person. But for now, thank you in advance. I for one can't wait to see, in years to come, a stand of tall, majestic cabbage trees backlit by the sun sinking low over the placid waters of the estuary.
Oliver Lewis' involvement (page creator): As a journalist, I covered the poisoning in 2018. As a cabbage tree-lover, I wanted to replace them, so I'm organising the project.
Use of funds : All money raised will go towards the $633.60 purchase cost of 24 cabbage trees to be planted on the causeway section of the Christchurch Coastal Pathway.