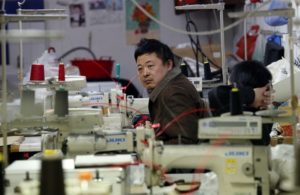 I visited Italy at the end of last year. What a wonderful place. I really like the Italian's approach to the Catholic Church. They are baptised, married and buried in the Church. The rest of the time the least they have to do with the Church the better.  The town we stayed in was 2300 years old. The population inside the walled part of the town was 7500. It had 27 Catholic Churches.
We visited the wonderful City of Florence. We took in the marvel of the statue of David and visited the place where they have reconstructed da Vinci's engineering drawings and walked past the Church which took over 170 years to build. We looked to purchase some leather products. The markets were revolting. I commented to Pam that they must have a City in China which had changed its name to "Italy" to make the "Made in Italy" labels honest.
It turns out that I wasn't too far from the truth. Instead, the Italians have taken the Chinese to Italy and used them as slave labour. I had read some months ago about how the towns which export tomato products use refugees as slave labour. It would appear that ethics is an element missing in trading in Italy, which is a big disappointment.
Then I read this article this week: