I have been increasingly annoyed at the media obsession with the Rugby World Cup. Now that the All Blacks have bombed out, maybe we can return to sanity, and talk about real things.
Maybe the result might inject an element of sanity into the debate about our stadium. Or was that another bloody pig flying overhead? I just don't trust Otakaro Ltd. They are the most expensive overhead I have ever seen. This article in the Press today is a demonstration of how they should be closed down and people who haven't got a cost-plus mentality to run the process. The sooner Megan Woods closes them down the better. When you read this article and see the Stadium costs are going up by $1m per month this would be part of the cost of Otakaro. Here's the article https://www.stuff.co.nz/national/116807249/chch-stadium-costs-rising-while-city-council-works-on-delayed-business-case.
Anyway I award Otakaro Ltd with the flying pig award: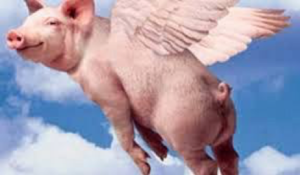 One thing which fascinated me about the All Black's game was that they were out psyched from the start by the English. The "V" formation by the English team was brilliant. The lesson I drew from the game was that message from the Poms was, how the mighty have fallen. Christchurch and the South Island can learn from this. While the media and all the politicians focus on Auckland, it's time for us to out psyche them all and plan as a City and as an island.
We need to create our own "V" formation.