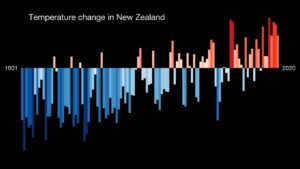 The most ambitious leaders in civil society and business convincingly make the case that only big, fast and transformative responses will solve the climate crisis. But the Glasgow agreement shows once again that politicians still don't know how to deliver them.
The real test comes over the next year to 18 months. If countries deliver on all aspects of the inadequate Glasgow package, while gearing ups for far bigger shifts straight after, then an adequate response to the climate crisis could be possible.
Shaw marked the end of COP26 negotiations by saying it was well past time to move from talk to action in addressing the global climate emergency.
"Now COP26 has come to a close, attention needs to turn to the action countries must take to decarbonise their economies. For years we have been discussing the detailed rules that sit under the Paris Agreement. With much of that now finalised, countries can get on with the crucial work of implementation.
"New Zealand will continue to lead by example here, and show the world what meaningful, ambitious and lasting climate action looks like,"
https://www.newsroom.co.nz/cop26-rod-oram-cop26s-inadequate-package-could-still-lead-to-progress