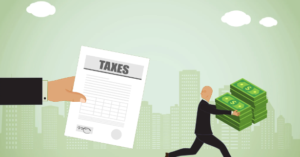 No Happy Residents means no Industry – of course John Collyns as executive director of Retirement Villages would be expected to have such an answer to hand.  Of course it is in their business interests to keep residents happy.
Published letter in The Press 5 May 2023
My friend Patricia Allan in her Upfront article on retirement villages in the Listener this week says "Our financial advisor reminded them – they were making a "lifestyle choice not a fiscal choice".
Both of these made me reflect on the idea that this is a kind of neo liberal version of Wealth Tax…
I wonder if  retirement villages provide a system of Wealth Tax by stealth….
In this case Wealth is handed over without question or qualms to private enterprise rather than the government.   I suggest that many of these same people (and their children) would scream highway robbery if the government introduced an inheritance tax, a wealth tax or capital gains tax.  
But since it is private profit, and private choice, people seem all too ready to hand over our wealth to a private enterprise whose only concern is returns to investors.  I am not saying they do not care in their own way, but they care in order to increase those profits.   In some cases when people are forced to move from one retirement complex to another, they pay twice.
Our 40 year experiment with a  neoliberal business model and the pressure to privatise has led the the situation that we are now.  Those who are well off can choose to go to a retirement village, paying over their wealth to a private company.  Interestingly I wonder what the effect of this will be intergenerationally as those parents have less to hand on when they die.
Those without resources are forced into further impoverishment in the private rental market, or if they are lucky into a social housing situation which limits the rent they pay to 30% of their income.
We continue to want to have a Scanindavian lifestyle, but we are not prepared to pay a Scandinavian level of tax.  If we pay a wealth tax, or my preference Capital Gains tax to the Government, as least we would be beneficiaries as our Government can then provide the health, education, water and other systems that we need to thrive as a community.