Between the idea
And the reality
Between the motion
And the act
Falls the Shadow

TS Eliot, in his poem "The Hollow Men"
Acknowledging Eliot's "shadow" let us remember how the "tight" team had a meeting with the CEO before the election. It was set up by Jamie Gough who wrote at 11.11pm an email to the CEO which included this gem:
Some sportsmen bets (sic) or light wages (sic) on various council seat predictions could be in order, for entertainment's sake, however we primarily wish to discuss how you and the organisation can best be prepared to enable the direction we want to set to achieve our objectives to genuinely enable you in your role, and ultimately lift the performance, public trust, and reputation of council.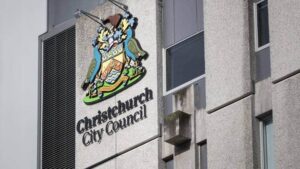 This statement is extremely dangerous and fundamentally undemocratic. It assumes that an elite group should set policy behind closed doors clothed in words like "to achieve our objectives". That is all about power and later telling the ratepayers what is good for them from the elites who occupy part of the council table.
The 11.11pm email from Jamie Gough is too often forgotten after a campaign.
This week let us scrutinise some of the topics raised by the 3 members of the "tight" team during the meeting with the CEO. What was recorded in the Council minutes is numbered. Underneath are my observations:
1. Change consultation thresholds – Council currently over consults and wider use of online tools
Phil campaigned that he wanted better relationships between those of us the ratepayers and CCC. This item is inconsistent with what Phil promoted when he stated on his website that he wanted to:
Regain ratepayers' trust in the Council
Does he now feel that "over" consultation will not be the way to restore ratepayer's trust in CCC?
2. Levels of service – review and advise on options and trade‐offs. Need to improve residents' satisfaction and follow up where things fall through the cracks.
Levels of Service is a technical phrase. It lists what services and projects the council will provide over the next year. What precisely does the "tight" team have in mind? Closing libraries? Charging for children to use sports fields? Mowing berms less frequently? No more community parks? Having fewer people answering phones? Fewer replanting of trees? No money spent on the Red Zone? Stopping all cycleways? How many roads will not be rebuilt? There are literally hundreds of Levels of Service.
What they are planning to stop should be communicated with the public. This call must be made in public at a meeting attended by the media and any member of the public interested in attending. NOT behind closed doors. The CFO's email last week does not fill me full of hope about there being an open and transparent exercise.
3. Ideas for efficiencies: ‐ roving maintenance team, online submissions, civic building
The roving maintenance team exists already. CCC has a contract with City Care. How well is this monitored? All submissions are on-line already. I'm not sure what "civic building" means. Is the rent too high?
4. Reduce rates: to be identified by new council where levels of service will reduce or activities stopped to enable rates reduction, target 3‐4% rates increase.
Too many elected members spout this sort of nonsense during a campaign. It brings politicians into disrepute. How many times last term did we hear Councillor Aaron Keown say that rates should be limited to CPI? He was promoting this when it was 1%. In the year to August, it rose to 6.3%. If he manages to achieve the latest CPI he will be doing extremely well. However, I guess he has abandoned it.
The CPI is a faulty mechanism. The increase in the price of fags, or bananas, which the CPI records, actually does not impact too much on the makeup of costs at CCC. What drives costs at the Council are wages, construction costs, interest, insurance etc.
The council has not released the number they are working from. It will be high judging by Auckland City Council, which has. They are working to reduce their rate increase from 12%. https://www.nzherald.co.nz/nz/economic-storm-at-auckland-council-points-to-double-digit-rates-increases-unless-big-savings-are-found
The difference between Auckland City Council and Christchurch City Council is that Auckland has disclosed what they are dealing with. Not Christchurch.
https://www.newsroom.co.nz/another-year-another-emergency-city-budget
Let us hope that our "tight" team, who will be leading the budget debate currently behind closed doors, will disclose what figure they are struggling with right now. Let us assume that it is 12%. Possibly higher.
Getting the Budget down
What drives rate increases is that they go up 1% with each $5m worth of operating costs, and each $100m of capital costs. Operating costs include staff wages, insurance, interest, mowing lawns etc. Capital costs include rebuilding roads, restoring parks, underground pipes, and building new facilities etc.
The capital budget is easy to reduce. The council has not performed well with expending its capital budget for years. It would be easy to reduce the rates by 2% by reducing the capital budget to a sensible level.
Let us assume that the council has reduced its budget from 12-10% through reducing capital spending. The mayor and his "tight" team wanted the rates to be around 4%. Let's work from that figure. They will have to find 6% reduction. That means they must remove 6 times $5m out of operating costs. $30m.
These costs will have to be removed permanently from Council budgets.
What will be driving the cost increases? The cost of:
Insurance.
Interest increases (for a heavily indebted council post-earthquakes).
Consumables (think about our home costs which are going up every week).
Staff (the CEO was awarded around a 10% increase in income last year the staff will be expecting their turn to be now).
Raw materials for maintenance like concrete, wood, and steel.
Promoting rating levels of 4% sounded impressive during an election campaign, but I fear it was just PR bullshit.
5. Explore funding options for stadium including regional rate, local discount
Too late. Why should surrounding councils have to fork out for a stadium they had no say over? They have already given the big single finger to this one.
6. Road maintenance: review all roads and streets across the city to prioritise maintenance activities, digital – evidence based.
This should happen already. If it hasn't been happening, what have they been doing as councillors in this, and previous, terms to ensure that road maintenance is up to best practice?
7. Focus on resident's survey – to build trust and confidence
I agree with them. This survey is a critical one. However, the survey was available months before the elected reps received a copy. The elected reps must receive the survey results at the same time as the CEO and executive team. It must not be used as a source of power for the executive.
8. Pause Harewood Road section (Wheels to Wings) cycleway – advice will be sought
This was just political posturing. This section of cycleways has gone through extensive consultation and these guys are just pandering to a vocal few.
9. Wants advice on streamlining consenting processes, including changes to District Plan
Here Phil is in a very vulnerable position. He, and his family, have extensive land holdings. He was supported by the contracting and development sector. They will expect dividends from their largesse.
10. Review Councillor director appointments and seek OAG ruling re clarification of roles and responsibilities
This is extremely dangerous. Putting Councillors on CCHL subsidiary boards is a turnback to grace and favour public office.
Years ago CCC councillors were rewarded for loyalty by being placed on boards, with their subsequent fees.  18 years ago, we got rid of this.
We achieved public support by ensuring that CCHL companies were run commercially maximising their profits from assets which benefitted the city. To meddle with this could bring the whole house down.
11. Different relationship with CCHL, including greater return from CCHL or certainty of dividends
I smell a rat. We will return to CCHL as a topic on its own soon.
In a report this week by the Office of the Auditor General it was stated:
a lack of cohesive leadership in public accountability, suitable measures that demonstrate what is important, mechanisms for being accountable to future generations, a range of voices to properly inform public accountability processes, and retrospective analysis or evaluations of what was achieved for the public money spent.
"The challenge therefore is to reshape the public accountability system so that it encourages and supports organisations (within and outside central and local government) and communities to work together towards reducing persistent disadvantage,"
https://www.newsroom.co.nz/pro/auditor-general-calls-for-wide-reaching-reviews-of-failing-public-accountability
Many things at the meeting between the "tight" 3 and the CEO challenges what the Auditor General has written.