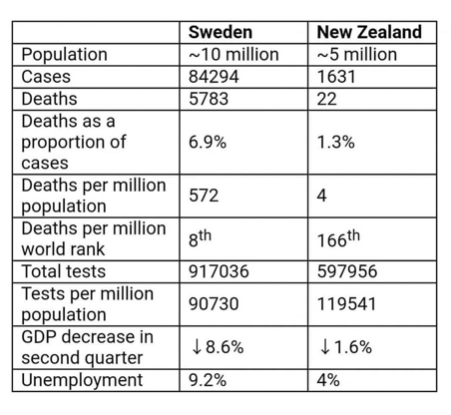 The approach of Sweden is really well reported in this article https://unherd.com/2020/08/why-sweden-is-different-when-it-comes-to-covid/?tl_inbound=1&tl_groups%5B0%5D=18743&tl_period_type=3
In the article the author, who describes himself as half-Swede, half-British wrote at the start:
Since its lockdown-free response to Covid-19, Sweden has suddenly found itself the pin-up nation for libertarians worldwide, who see in its more laissez-faire response a defence of individual freedom and self-governance above all else. But Sweden is not a libertarian society — far from it; in reality, they are sticklers for the rules. Try putting decking on the seaside edge of your garden, or buying alcohol from anywhere other than the state monopoly — you will be met with restrictions that would be unthinkable in either Britain or the United States.
The picturesque scene in front of me speaks of a culture that some might even find oppressive. It's the polar opposite of, say, the pleasure coasts of Florida, where sprawling mansions butt up against each other without reference to any communal style: ionic columns next to modernist glass boxes, each shouting its own taste and values in a cacophony of individualism.
He concludes with this paragraph:
What are our equivalent values in Britain or the United States? Sweden has all sorts of problems, not least the political instability associated with high levels of immigration. But whether or not their approach to Covid-19 will be vindicated by the numbers, its consistency in the face of enormous pressure and international criticism makes a striking contrast to the jumpy and acrimonious debate in the UK and, even more so, the US. It strikes me as more a sign of cultural strength than weakness, and there's really nothing "libertarian" about it.
This article is a fascinating expose into Sweden and its people. It's well worth reading. But their statistics appear to be way worse than ours right now. However, we have to keep attentive and prove the libertarians wrong.