Bus timetables to be cut back:
If we are to have a proper public transport system, the staff must be paid properly. In the Press on Thursday there was an article on bus timetables being cut back to the weekend timetable. There are lots of excuses like we have locked borders so potential bus drivers from overseas are not here. However, in one part of the article, it stated:
Chappell (the union spokesman) thought improving wages and the way rosters were done – to remove long unpaid breaks in the middle of shifts – would help.
If there is to be a concerted drive to expand public transport, then the whole sector must be rethought. Since the end of the 1980's with de-regulation the whole public transport industry has been a rush to the bottom. The staff have often been the pawn in the game. Wages in Christchurch are, according to the Press:
all urban bus drivers are paid a living wage of $22.75.
It's time to review the whole sector and to ensure that staff, and the owners of the bus services, are rewarded properly. Not everybody being screwed for the lowest price.
Here's the article: https://www.stuff.co.nz/the-press/news/127158474/christchurch-bus-services-to-be-scaled-back-during-weekdays-due-to-driver-shortage.
New campaign on public transport:
There's a new campaign being promoted to urge the government to support free public transport. I signed the petition and I recommend you do as well. Here it is: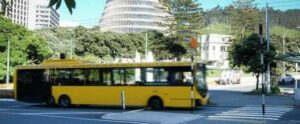 To: Minister of Transport, Michael Wood:
Now is the moment for free fares Sign here
We call on the Minister of Transport, Michael Wood, to implement free public transport for Community Service Card holders, full- and part-time tertiary students, and under-25s nationwide.
We want to see this fully funded by central government in Budget 2022 and free fares beginning in 2023.
We also acknowledge the need for this government to reduce fares for all other passengers and to increase the reach, frequency and quality of services in underserved areas.
Why is this important? Read more here
Remember our session with Axel on Public Transport – Making it free will not make a big difference to emissions, but it will make a big difference to equity…
Federation of Motoring Clubs support public transport:
The Federation of Motoring Clubs made a submission to the Government's emissions reduction plan where they said amongst many issues:
Complementary huge investment to make public transport more efficient, more frequent, and universally free could make it a much more attractive alternative to private cars. Present services are not sufficiently frequent, fast, comfortable, convenient, or cost effective to provide a preferred alternative to individual transport.