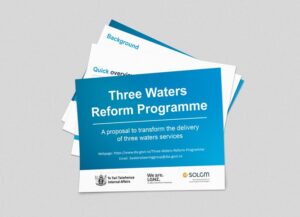 Last week I sent out Deputy Mayor, Andrew Turner's questions about the proposed Water Reforms. I asked other Councillors for their opinions and here is a response from three more City Councillors. This topic is one which we will consider in great depth over the next few months. It's another topic which we have to watch with great interest as it could become yet another attempt to destroy Local Government.
Sara Templeton:
Waters – Governance and Accountability
One of the key reasons that the government says it is undertaking the 3 Waters reform, is the historic lack of investment by the current governance (ie councils) and subsequent failures. Yet the current proposals have key issues for governance that have not been addressed.
Groups of councils will be asked to select a small groups of representatives who will then appoint a Board of Directors for the new entities. How will a large group of Councils agree how to do this? Who will be represented and who won't?
Each group of councils will be advertising, interviewing and appointing directors at the same time. They will be appointing from the same small pool and in competition with each other. Do we have 20+ directors available in NZ with enough skills and experience to run 3-5 new boards of this nature? Will we have to get them from overseas? How will this competition impact their remuneration?
How will these boards be held accountable by the residents they serve and who they charge for the service? Can you actually remove a board in practice in the proposed system?
If the boards are not able to make the difference that Government wants them to, will they simply blame the Councils that appointed them – in spite of government setting up the system? 
There are still huge risks in this system that have not been addressed. It might be that keeping the current system, but setting infrastructure standards that Councils must meet and finding an alternate funding system would deal with the infrastructure shortfall without removing the democratic accountability of the election cycle would be an alternative to explore.
Ngā mihi,  Sara.
Mike Davidson:
Thanks for your email. I won't go into the reasons why I am concerned about this reform and that fact that this feels like a precursor for a bigger local government reform.
"Across New Zealand many Councils have not invested enough into their 3 Waters infrastructure. However, we need to ask is why this is the case before leaping to a solution first and creating new entities with their own problems. It is not because Councils do not value this area to invest in properly. It is because Councils have a funding mechanism that does not work for modern councils in New Zealand and are incentivised to keep rates low.
Councils no longer just focus on roads, rubbish and reticulation. Quite rightly, they also have an important role to play in the 4 well-beings; social, environmental, cultural and economic. Government needs to work out how to fund Councils appropriately instead of stripping them of core work that is best placed at a local level.
As an alternative option, Government could adopt a similar approach to how transport is funded and introduce a Financial Assistance Rate (FAR) to co-fund this important infrastructure.
While the transport FAR comes from a hypothecated fund that is collected from transport related activities, Government could introduce a small infrastructure levy, collected through taxes which in turn could be used solely as a 3 Water FAR.
Like transport, Councils would only be awarded the 3 water FAR if their projects met the right requirements and higher FAR could be applied to Councils who need more support, such as smaller councils with a low rating base. This additional funding would incentivise Councils to do the necessary work, but Councils would be required to meet infrastructure standards and have a plan to get there.
At the same time Government could stop charging GST on rates invoices and also return a proportion of the GST that is collected from investments that Councils have made on behalf of their rate payers (eg. The build and then the ongoing revenue for the stadium)."
Pauline Cotter:
Having read Andrew Turner's list of unanswered questions and concerns regarding what, if any, future there would be for Local Government, our Councils, I feel he has covered the subject well.
The comments I would make, many of which reinforce Andrew's comments, are as follows.
There is a view , rightly or wrongly, that the existing management and regulatory environment for freshwater lacks coherence and capability, and Councils are unable to take a wholistic view of 3 waters. Is this a slight over- reaction to the Havelock North transgression? No one is disputing that we all demand safe drinking water and environmentally safe discharges of wastewater, but shouldn't the new higher standards and associated water safety plans, which must be met by suppliers, provide a solid bottom line for safety? Or is this an asset grab as some believe? The Water Infrastructure Commission Of Scotland ( WICS ) has surveyed the 2 waters infrastructure of 42 Councils in NZ and has valued treatment plants, pipes and pump stations to have a value of @ $12.6B. The plan is that a few Entities could borrow against assets at a greater amount than local councils; to use debt to upgrade infrastructure.
It seems to me that most of the non-compliance suppliers are to be found in the North Island, and in the smaller Councils and Marae, and by the way, Christchurch is an exception to the underinvestment in 3 waters infrastructure.
This is about small suppliers, who have under invested, and will have difficulty in affording the upgrades, and accessing the technical skills to facilitate the work required. It is estimated that there are at least 70,000 private suppliers that deliver water to 2 or more users in NZ. Yes, Councils are progressively renewing ageing pipes and replacing with more resilient ones and progress is slow, but is it all about affordability or is there a challenge around deliverability within a working system, considering disruptions etc. So how much more and faster could an Entity deliver within these constraints anyway?
The affordability issue, especially for smaller councils, is one of the key points here, with Councils' only ability to raise funds being through the rate payer. Councillors would become unpopular ( quite possibly voted out ) if they increase rates too much; that's is the weakness of the 3 year electoral cycle. However, has the Government investigated other options, as local councils are required to do under the LGA ? eg: Returning a portion of GST to local Councils and tagging it specifically to Water infrastructure, or requiring the Crown to pay rates and Development contributions, or setting up a 3 waters subsidy fund as per NZTA which subsidises local road and cycleway projects , or raising the headroom limit of the Local Government Funding Agency to enable Councils to borrow more etc.
Another concern of mine is that the Government is expecting the local Councils to run the consultation and information sessions on their reform proposals. In my experience no matter how we try to explain that this is a government initiative, the Local Councils will be seen to be the perpetrators anyway. The timeline is highly ambitious and unachievable, with the Crown wanting consultation in the last quarter of this year, with a Council decision on whether to continue with the reforms by voting to support a separate entity by the end of the year! But is gets worse. Councils will be expected to vote on the Entity models next year, which is local Government election year. I think this is very unfair on incumbents who will cop the wrath of voters.
Are water delivery services and infrastructure as broken as the Government is making out? Are councils really lacking in competency to the degree that is being stated by DIA ?
Finally, there is a growing interest in water conservation through demand management, rainwater harvesting, and re-use of grey water. All these measures will reduce the volume of water to be delivered and removed, thereby reducing the operational and renewal costs of infrastructure.
Last year the Christchurch City Council conducted an independent s17(a) review into its 3 waters services and delivery. They found a viable and achievable option was to set up a Stand Alone Business Unit, which would achieve independence from Governance, thus providing security of funding in long term budgets. Ring fenced funding would allow for a transition to collaborate with other districts as required. So rather than push through these reforms bullishly, with little information and few answers to the many questions being raised about asset ownership, democratic choices, the make-up of Entities and who decides, the role for local government without its core services etc, perhaps the Government should slow this down, concentrate on solutions for smaller, rural Councils, and allow Christchurch to continue with a Stand Alone Unit, at least in the short term.
This is the biggest shake up in Local Government in 30 years, not something that should be pushed through in haste. It feels like Councils are being pressured into agreeing to the establishment of a few Entities to deliver, fund and manage our water without having the appropriate information to support decision making.