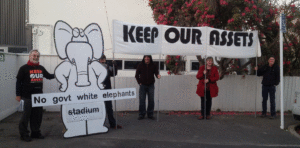 So, come along to the WEA on Monday evening at 7pm to hear a group of speakers inform you on why we should not sell our assets. It is time for us all to mobilise and to inform our elected reps that they are currently being led up a blind alley.
Since the end of last year there has been a push by the CE, Dawn Baxendale, and her CFO, Leah Scales, to sell some, or all CCHL assets. I totally disagree with this decision. It demonstrates an absence of understanding of why this city kept its assets when most were selling theirs. The issue is that CCHL has not performed as economically as it should, and this is what must be investigated. Not selling these precious assets which have been built up by generations of people living in this city.
These assets include shares in the airport, the seaport, the data port, City Care, the power network, and several smaller companies.
The way the CCC has approached the matter of the sale of CCHL reminded me of a quote by Francis Bacon in "Novum Organum" in 1620 where he said:
The human understanding when it has once adopted an opinion … draws all things else to support and agree with it. And though there be a greater number and weight of instances to be found on the other side, yet these it either neglects and despises … in order that by this great and pernicious predetermination the authority of its former conclusions may remain inviolate."
The way to obtain information about what is happening inside the city council is through the Local Government Official Information and Meetings Act 1987. I have been appalled by the efforts that have been made to obfuscate matters toward my enquiries over CCHL and other matters. The only way I obtained some answers was by complaining to the Ombudsman.
At the first meeting of CCC after the election the councillors were ambushed. Amongst other things they agreed to do was to reduce the number of councillors on CCHL from 4 to 2. Then a majority agreed to proceed down the path of the potential sale of assets. This was a direct reversal by mayor Phil Mauger who had said during his election campaign firstly to RNZ:
"I wouldn't sell the family silver, which is our Christchurch companies…"
The following week, The Press ran a story headlined: 'Christchurch mayoral hopefuls promise not to sell ratepayer-owned companies." In the story, Mauger said: "You can take it from me that under my watch as mayor, I will not be selling any of these assets."
Last December, only two months after being elected mayor, Mauger and nine city councillors voted in favour of developing detailed business cases for potentially selling down assets.
No wonder the public are critical of elected reps who say one thing to get elected and behaving with complete disregard toward their speeches they gave to get themselves into office. However, Phil Mauger has continued behaving like this on a vast array of issues.
Earlier this year a small group of former CCHL members spoke with Councillors about the history of CCHL. One was a key architect of CCHL and its structure, David Stock. Another was Bruce Irvine who chaired CCHL for 15 years. The third member of the group was me, a Board member for 12 years and one who had to fight off efforts by the Business Roundtable to purchase our assets for their members.
We gave our comments and whilst councillors were still asking questions, we were shepherded out of the meeting by Leah Scales. I am informed that those present were then told that we represented the past…..
The councillors were then given a briefing by Northington and Partners who had been brought in to "review" CCHL. It appears that part of their task was to lead CCC elected reps up the sell assets path. Over the year Northington's have cost CCC and CCHL at least $500,000. The first bill was authorised by Dawn Baxendale under her "delegated authority".
Northington's have been around the Council again recently. I have asked for the reason for this and haven't had a reply.
During the year CCHL has spent what must have spent well over $1m on advisors. This is merely my guess. I have asked under LOGIMA for how much it has cost, and this information was declined. Every dollar wasted adds to our personal rates bill.
The councillors have agreed to appoint 4 new directors to the CCHL board. All of them from outside Christchurch. In the past most of the directors of CCHL companies resided in Christchurch. Don't we have the skill base to appoint locals? None of these directors will have any idea why the city council kept these assets in the first place. They will have no understanding of Christchurch and its history. This criticism also applies to Dawn Baxendale.
During this year there have been a succession of secret briefings of councillors on CCHL matters. There is merit in our elected reps being informed in depth about each of the trading companies. However, if the purpose is to soft soap them into eventually deciding to sell assets, then the essential purpose of open local government has been completely ignored.
A warning by the Ombudsman about secret meetings by councillors:
The very day that the Ombudsman issued a strong report on Council's around New Zealand conducting their business behind closed doors.  Christchurch City Council CE and CFO had a meeting with Councillors to get them to vote on which options the Councillors felt inclined to support on whether or not to sell some, or all, of CCHL assets. There was a vote of hands. The meeting had to consider:
Strengthen existing portfolio – status quo, no change of ownership, just more active management. Some extra returns but no extra sudden cash.
Secure Sustainable Growth – some selling of non-core assets for CCHL reinvestment (or return money to CCC) but no loss of control of assets. Increased returns are 'aim for', not guaranteed. Returns to CCHL to reduce CCHL debt. Aim is to smooth peaks and troughs in returns. Seems to mainly be of benefit to CCHL. Would need to sit down with airport to understand which land etc might be disposable. Or sell minority shares. Full control of subsidiaries i.e., Enable, the fibre optic company. (CCHL pushed 51% as 'control' but this was questioned and corrected. 51% is majority, not control. You require 75% under the Companies Act to control substantial sales.)
Renew the Portfolio – ability to sell majority shares in assets. Example – sell Enable 1 billion, 700 to CCHL for reinvestment, 200 to pay down CCHL debt, 100 to Council. Again benefits CCHL more than Council. Maximise returns – sell all assets fix funding gap, invest remainder.
Later at another meeting, also behind closed doors, and after the Ombudsman's ruling, the Councillors were encouraged to stick "post-it" stickers on a wall.
Here's what the Ombudsman is reported on the RNZ site as saying:
Secrecy inevitably breeds suspicion… As a matter of good practice, workshops should be closed only where it is reasonable."
Boshier said he did not consider "controversy, complexity, or the potential for embarrassment" to be good reasons to exclude the public.
Nor was the concern raised by some councillors and officials that "asking questions [in public] could make them look stupid".
"Elected members should be resilient enough to withstand reasonable public scrutiny. It is the job they are elected to do."
Boshier highlighted the Local Government Act's requirement that local authorities should conduct business in an "open, transparent, and democratically accountable manner".
He said, as such, all workshops should be open by default with their time and location advertised in advance and a full and accurate record kept.
Here's a report which was in Newsroom last week which shows that not all councils are behaving like Christchurch:
The New Plymouth District Council has held its first public workshop after the Ombudsman reprimanded local authorities for holding too many secret meetings. Peter Boshier said excuses such as allowing elected members a "safe space" to ask "silly questions" did not stand up to scrutiny.
I'm not sure what is happening at CCC but now the CFO, Leah Scales was reported in the Press on Saturday as being on "sick leave". Because CCC has increasingly been operating in secrecy and hiding behind commercial sensitivity I am worried that the citizens of this city, who pay the salaries of Dawn Baxendale and Leah Scales (and Paul Munroe at CCHL) are being kept in the dark about an issue of major importance to our citizens. The executive and their highly paid consultants are operating secretly to dupe our elected reps into selling our crown jewels.
In the Press on Thursday there was this excellent article https://www.thepress.co.nz/nz-news/350106496/lyttelton-port-needs-stay-public-ownership
The challenge is to make the companies within the CCHL whanau work harder and pay higher dividends than they are right now. The CCHL board has not been driving the companies to achieve maximum benefits for us as the owners. All the dividends received from CCHL reduce our rates bills.