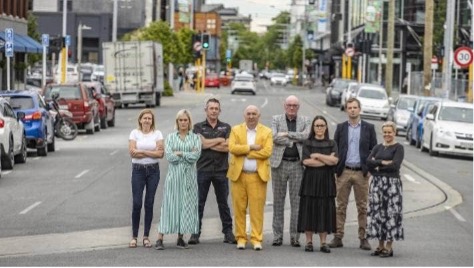 Every now and then a group of central city property owners stand up and clear their collective throats. This happened again on Saturday in the Press. A group of grim-faced people demanding that their opinions be considered more important than other submitters. Because they are rich.  
One of this group who speaks sense mostly is Shaun Stockman who said:
"a fair balance was needed, and while some aspects of the proposal were viable, others were "simply unworkable". 

Wider pavements and new trees will be part of the roading design. (Artist's impression) 

"We don't necessarily reject all the council plans in their entirety."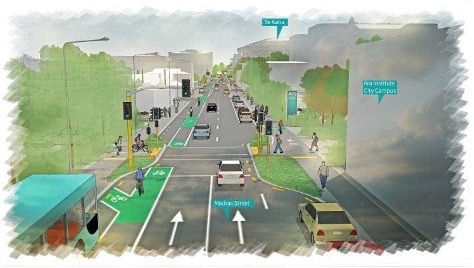 Stockman said underground infrastructure was "an absolute must", but much of the plan showed council staff were not at the coalface and lacked understanding of how people moved around the city. 
He said he and other developers had followed the post-quake blueprint and created hospitality precincts in sheltered laneways, not on main streets, with the exception of Oxford Tce, which faces the river.
As a shareholder of a company (Smash Palace) severely affected by CCC road changes I would not have stood with this lot even if invited. Probably nor would many of those who have chosen to live in the Central City.
Our family ran one of the first (if not THE first) business to return to the CBD. We used our insurance money to get back trading. We were not property owners. We were mere traders.
Returning to our experience with the streets section of the council as a family business. We found the planners and the streets staff fantastic to work with. They kept us fully informed. Yes, it cost us a lot in lost earnings, but boy have we now got beautiful streets to trade alongside.
I challenge this property-owning group to work collaboratively with CCC and refrain from using threats, probably through a PR firm. Sit with the rest of us and we can work it out collectively. 
Here's the article: https://www.stuff.co.nz/the-press/news/130575813/hands-off-city-streets-says-business-group-as-mayor-backtracks