Rates:
Some years ago there was a City Councillor called Oscar Alpers. At one of the numerous meetings on setting the rates Oscar came up with an observation. He referred to councillors bulldozing costs into another year by putting off addressing costs and therefore being able o set low rates. It became referred to as Oscar's bulldozer.

The current council are facing larger challenges than we had but they must be very careful that Oscar's bulldozer isn't cranked into action again. The CEO and the CFO must challenge councillors to address costs properly and not avoid creating problems in future years.
In the Press last Tuesday, it was reported that:
Councillor Sam MacDonald, a close ally of Mauger who chairs the council's finance committee, said the 9 to 9.5% range for rate rises was still too high.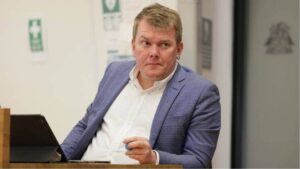 "It disturbs me," MacDonald said, adding it was a consequence of the council having so much debt on its balance sheet.

A 9% rise would not be acceptable to the public and the council needed to go back to the drawing board, he said. "We're going to have to make tough choices… I don't know what that will look like yet."
MacDonald said "a lot" of operational savings would need to be looked at.
To achieve a 1% reduction in rates, councillors have to cut operational costs by $6.3m.
I would make a few comments about this.
Is Sam saying that behind the scenes they have got the rating level to 9.5%. That means that the 14.6% level has been brought down through a variety of means by 5.1%. It should be disclosed how this occurred.
The mountain of debt will increase hugely because he and other councillors promoted massive overspending on an oversized stadium. These costs haven't even started to hit yet.
Sam has informed us that each 1% of operating costs (staff costs, mowing lawns, library costs, etc) costs $6.3m. That means to bring the rates down from 9.5% to 4.5% Sam will have to remove $31.5m worth of operating costs. That's serious numbers.
The comment by CEO, Dawn Baxendale, of:
"…. releasing "first cut figures" without an indication of how the council could reduce them would be "misleading".
I'll tell you what was misleading. It was Phil Mauger talking about bringing the rates down to between 3 to 4.5%. Creating an expectation by voters to vote for him and that he would achieve this. I heard him make this statement several times. However, he didn't do that on his own. When he had his one on one with the CEO before the election (his one on ones also involved Jamie Gough and Sam MacDonald) they also promoted these numbers.
It's also misleading of the CEO of CCC not disclosing how the rates were reduced by 5.1% from where they initially started.
https://www.stuff.co.nz/the-press/news/130602583/christchurch-council-looking-at-every-financial-lever-amid-9-rates-hike-prediction.
Hagley Park being used for hospital parking:
Mauger and city councillor Aaron Keown, a former Canterbury District Health Board member, want to turn a grassy, tree-lined verge on Riccarton Ave across the road from the hospital into a car parking strip big enough to accommodate about 100 cars.
Before the election Phil and Aaron Keown proposed this:
The parks would be offered free for two hours, they say.
In a media release, the pair said the strip was used for parking for decades and then again following the earthquakes and the March 15, 2019 terror attacks. The area was now a "no stopping" zone.
Keown said the parks could be created without losing any trees because the cars would park in front of them and cobblestones that allowed the grass to grow through them could be laid.
A new 450-space car park building was due to be finished at the end of next year following a 12-month delay, but the Mauger and Keown said it was too small to meet the needs of staff, patients and visitors.
The pair wanted the new parks installed by Christmas.
If elected mayor, Mauger planned to use an online voting tool – like the one used to garner feedback on the stadium earlier this year – to get a mandate for the work.
What happened to this? It's Christmas in a few weeks. Where is the on-line voting tool so we can tell you how stupid this idea really is. Aaron Keown of all people should know about hospital parking. He was on the Hospital Board and voted for the new parking building.
Is this, yet another hollow promise?
CCHL – watch this space
Last week I met the producers of a report on CCHL. I will reserve my opinion on this group until I read the report they have produced. We met them on Wednesday. They took very few notes, and it will be interested to read if we had any impact on their thinking. Them boasting about how much they had raised by selling the investment portfolio of Bay of Plenty councils rang alarm bells in my head.
I believe that the report will be produced, as a supplementary document, on Monday for the council meeting this week.
Here's what we were told the review was about:
Portfolio Strategy – what are the key objectives that CCC wants CCHL to deliver through its management of the asset portfolio?
Operational Structure – What changes can be made to the structure of CCHL and its interaction with the shareholder to improve outcomes?
Just a warning to the council. Sell any of CCHL at your peril.