Last weekend Christchurch–Otautahi hosted the remembrance ceremony 2 years after the shocking tragedy of March 15th.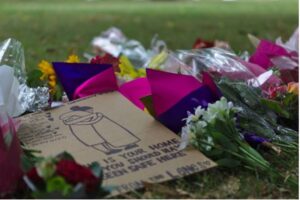 51 dead, as many injured, many present at the two Mosques not deemed "injured " but extremely distraught at what they experienced and witnessed — is that not injury?? And many family members, friends and Muslim community members not present that day– these people are significantly emotionally challenged.
All such pain exists among many 2 years on, and is predicted by psychologists, for some to exist for years to come, often lifetimes.
Societally — locally, nationally, internationally the ramifications of the March 15th religious/cultural hate incident will probably never disappear.
Post the slaughter the city and country rallied; heroes emerged from the shadows to help; first responders and hospitals were great (I witnessed this as I was a patient in Public hospital the day of the massacre, and observed the skill, care and love exhibited by hospital staff as victim after victim was admitted — amidst the utter chaos was genuine aroha)
Huge money, gifts and strong arms of wairua and love surfaced everywhere.
The PM and Central Government, the Mayor and City Council, the Police Commander and police, medical people, hospitals, churches, Joe and Josephine Public gave money, goods and spirit generously.
But what now? It's not over! It's really just beginning in many ways.
Some of the gestures of support continue, but much has ceased or significantly dwindled.
Disturbing online rhetoric from extremist groups and individuals has, analysts conclude, significantly increased. Recently a man was arrested and is currently before the courts for alarming threats to the An Nur Mosque.
All of this needs to be countered by, I suggest, various broad initiatives to PROACTIVELY and reactively, address destructive extremism toward religious/ ethnic groups.
This needs to be done in harness and in parallel bi culturally among the two Treaty partners, to progress within a growing multi-cultural demographic, (approximately 250 ethnicities in Aotearoa; 200 approximately in Otautahi)
The gathering at the Horncastle Arena in remembrance was attended by about 1000 people (capacity 7000, plus vast areas outside) Approximately 80% of attendees were Muslim community members, leaving about 200 attendees from the general community!
Where was everybody?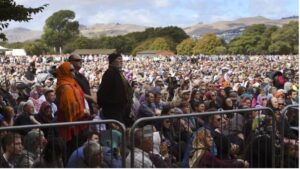 Respect and acknowledgement need to be accorded to those who simply couldn't face going or chose to recognize the anniversary in their own way. But surely there were another 6000 from our city /country who might have committed a couple of hours to such an important event.
But I feel "support fatigue " has emerged for a variety of reasons. Now is truly the time when we as a community really need to get going — yes for the Muslim community, but in so many ways, in the space of race relations generally
It was a beautiful ceremony — moving speeches from victims and the two Imams both in attendance at their respective Mosques on that sad day; sensitivity and care from our PM and Mayor; wairua and aroha from mana whenua; music and love from schoolchildren, meaningful taonga homai from local iwi carvers; dignity all round.
 A concern I had was the decision to "snack and chat " afterwards at the stadium — such occasions I think, require a quiet, dignified departure in silence.
The chat and nibbles inevitably wander from the primary Kaupapa of the huihuinga to networking, even laughter! Best to just wander off. (I was one who was trapped in this general networking over the tea and scones, and in retrospect I should have quietly departed).
So, what was missing? Apart from thousands more people, I think it would have been a meaningful gesture from our city/ country FAITH LEADERS to have a presence — if agreed to by the hosts of course — If not, then a media presence exhibiting the power, solidarity, aroha and theological whanaungatanga of the commonality of respective adherence to the teachings of a/the higher power.
March 15th was an occasion of religious/ cultural / ethnic hate crime — my question is where were the Catholics, Anglicans, Presbyterians, Baptists, Methodists, Buddhists, Hindus, Jews etc etc etc. All lined up together, at the stadium or elsewhere — or on TV or in the paper to powerfully express their mission in this context.
Imagine all arm in arm — with the Imams!
Where were their individual / collective statements, in Public?
Were they invited by the various media to say something — individually or jointly?
Privately messages may have been sent, but leaders need to be seen to be leading.
The editor of the Press when quizzed by me, responded that religion is a difficult subject for a newspaper. Well newspapers and other media cover myriad difficult topics daily — politics, climate change, city development, racism, poverty, royalty, gender issues, crime, the economy, rates, taxes, sexuality, housing, human rights etc.
To Press Editor, Kamala Hayman's, credit, she did invite suggestions as to how such matters could be addressed by her newspaper.
Why is religion any different from other difficult issues?
This is not an opportunity for religious/denominational proselytizing or soap boxing, but rather a time to say "we're with you " with respect to what we have in common — which is significant.
Many, many organizations and individuals remain strongly involved in assisting the two Mosque communities with time, resources and brotherhood/sisterhood/ familyhood.
Initiatives are underway, and more are planned. This is great, but I would urge the broad faith community to demonstrate a far more prominent role in spiritual aroha.
Note the Pope's recent strong presence and statements in Iraq!
We sing the National Anthem before All Blacks rugby tests; Americas Cup contests; and all sorts of occasions — with explicit reference to God — in a largely secular contemporary society.
Surely our faith leaders and media and those non-religious and religious amongst us can offer more tangible, ongoing, support to our Muslim friends
" E Ihowa Atua " — " Oh Lord God "
"Me Aroha Noa" " Cherish Us "
Patrick O'Connor (Tuesday Clubber)