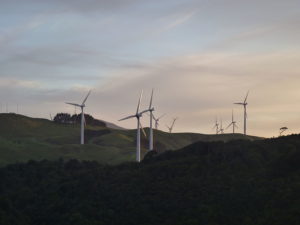 The Turitea wind farm near Palmerston North was in the news this week for its groundbreaking ceremony. Mercury is doing the project, with $256 million being invested in stage 1 to build 33 turbines. They have consent for 60 turbines at this site and expect to generate 470 gigawatt hours (GWh) per year. Some people don't like the look of wind farms but I find those huge turbines absolutely mesmerising to look at. It's clean energy. It couldn't be much better. Good on them.
At the same time, we are hearing from Rio Tinto that they are undertaking a "strategic review" of their Tiwai Point aluminium smelter. That corporate speak for 'we want a bigger discount on the price that we pay for our electricity'. The smelter uses about 12% of electricity generated in New Zealand. According to the Electricity Authority, New Zealand consumed about 38,800 GWh of electricity in 2017. That means that Rio Tinto accounts for about 4,700 GWh per year, and that the Turitea wind farm can supply 1.2% of New Zealand's demand.
So, what do I think of Rio Tinto's murmurings? This is how we should react:
stop subsidising Rio Tinto; let's say good-bye to them
government to sort something for the people affected in that region (directly and indirectly, we are talking about several thousand people)
Put a stop on importing cars with internal combustion engines; we suddenly have heaps of spare electricity so let's use it.
We send between NZ$5b and NZ$6b (yes, that's NZ$6,000 million!) overseas each year to buy fuel. If we dial that down quickly, it'll more than pay for #2 above. And anyway, it's the right thing to do in a climate emergency.