A well known Local Government leader said to me recently that one aspect of the proposed Water reforms has been very successful. The left reps hate them. So do right-leaning elected reps. They have a common enemy. The reforms. Well done, Government!
The Christchurch City Council is asking people what they think of the proposed water reforms. Here is a link to that survey. Please fill it in and encourage others to do the same. 
https://newsline.ccc.govt.nz/news/story/survey-to-gauge-peoples-views-on-water.
Let's look again at why the Government is promoting Water reforms:
Here's what the Prime Minister said at the Local Government conference on why the Government is proposing reforms:
the campylobacter outbreak in Havelock North that made 5,500 people sick, led to the tragic deaths of up to four people and had long-term consequences for an unknown number of others – from drinking public water supplies;
the no-swim notices on our beaches;
the frequent and sometimes near permanent boil-water notices for some of our communities from bacterial or protozoal contamination;
the erupting sewer pipes on some city streets;
lead contamination in the water;
consent-breaching sewage overflows into our urban rivers, streams, lakes and coastal environments."
These generalisations are the sort of nonsense on which these reforms are based.
There's no denying that the Havelock North outbreak was a disaster. It came about by a Local Authority having a dreadful, and vulnerable, system which were not good enough. However, these systems are monitored by the Department of Health. Has the DOH been restructured because of their failure? Not on your nelly.
I'm not sure where there is "near permanent" boil water systems but these need to be remedied. I bet they are in small authorities and that is precisely what the issue is. They can't afford their water systems. That is the key challenge for the Government. These authorities may be too small and need amalgamation. They will also need the Government to stand behind them financially. Maybe it's time for a new financial instrument to be developed by Central Government to assist Local Government with funding necessary infrastructure.
The lead contamination in the water was a false positive test. Dunedin City Council (DCC) took a conservative approach and instructed residents to boil their water after lead was found in water in the City. After 2000 tests DCC announced that the first results were a false positive and that the water was in fact OK. The Government has continued to use this as another excuse to reform water when DCC were being quite correctly conservative in their approach.
I completely agree with the Government that nobody in New Zealand should have a water system which is unreliable. I just don't agree with their Scottish model solution, promoted by WaterNZ and the Government.
Here's the structure which the Government is proposing:
The Government is proposing to establish 4 water authorities in New Zealand. In the South Island 21 Local Authorities will have all their infrastructure for drinking, waste and stormwater removed from them and taken over by a new structure established by the Government. In Christchurch's case the book value of the "three waters" is $6.9b and the debt on these is $1.1b. The Government is offering CCC $122m as a sweetener.
This is, in my opinion, theft on a grand scale as these assets have been created by generations of ratepayers.
Here is the complicated proposed structure for the new water authorities: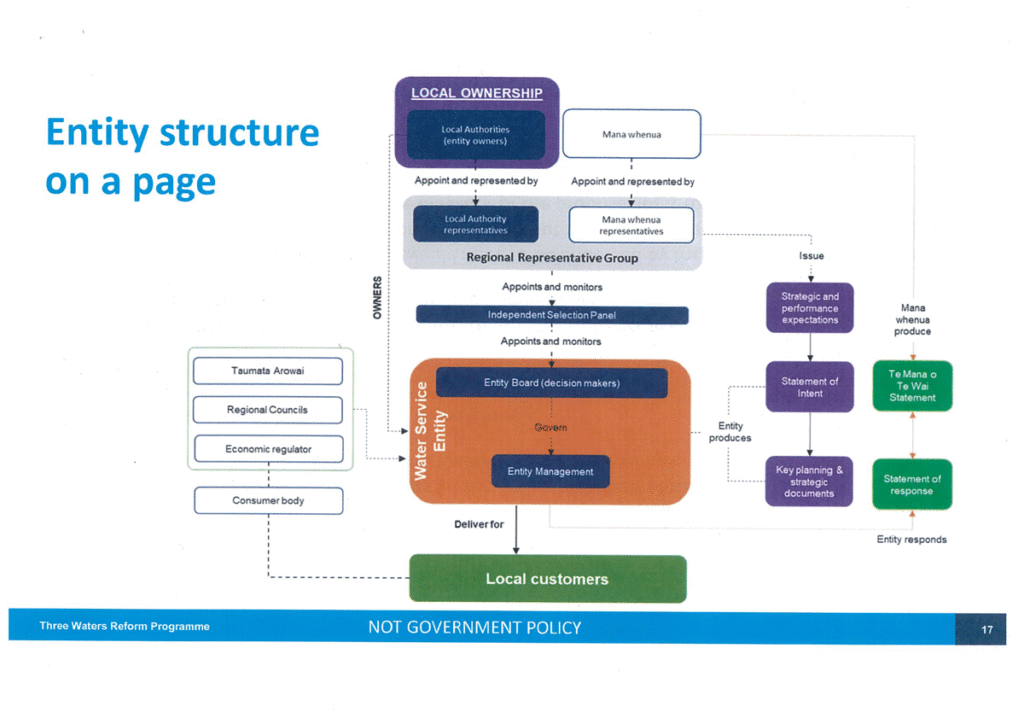 Local Government, at street level, has finally started to respond:
There have been several interesting developments recently with the Water reforms. Local Government appears to have woken up. Instead of allowing Local Government New Zealand to call the shots individual Councils have gathered, mostly regionally, and have been deciding that they are unhappy about what is being proposed.
It does make me wonder why Councils belong to LGNZ. If all LGNZ are going to be is a lapdog for the Government. The subscription for CCC to belong to LGNZ is $130K per annum.
The sort of responses around New Zealand have been:
The Canterbury Mayoral Forum has called for a pause in deliberations over water until the review of Local Government has been completed. Here's the report on their meeting:
Selwyn mayor Sam Broughton​, chairman of the Canterbury Mayoral Forum, said the requested pause could potentially last up to a year, as he thought the reforms could be an issue better dealt with after a review on the future of local government.
A survey of private water wells in the Canterbury region has revealed many which exceed the acceptable limits for E.coli or nitrate-nitrogen. (File)
The draft report for that review is expected to be published publicly by October 2022.
"It feels like that should've been done first before the rest of this to understand exactly where the changes for local government are going to be," Broughton said.
He said the pause was not a comment on whether the reform itself was good or bad, but he wanted to get it in context with the other changes happening in local government.
He said Canterbury councils wanted time to make a considered decision about the reform that involved the community.
"It's just all very quick," Broughton said.
https://www.stuff.co.nz/the-press/news/126157817/serious-concerns-canterbury-councils-call-for-pause-to-three-waters-reform.
The Mayors in the West Coast also wrote to the Minister asking for the reforms to be slowed down:
Grey mayor Tania Gibson, Westland Mayor Bruce Smith and West Coast Regional Council chairman Allan Birchfield wrote to Mahuta to show their support to the Canterbury mayors calling for the Government to pause the proposals.
The letter said the mayors and chairman were concerned with the pace of the reforms and wanted time to engage properly with their communities and rūnanga.
"It is clear at this stage our communities are anxious and unhappy with the current proposals."
The information the Government had provided about the proposals was complex and difficult to come to grips with, they said.
The Otago Southland Mayors have also asked for the "pause" button to be pushed:
The mayors and chairs of Otago and Southland councils also wrote to Mahuta to ask for a pause to the reforms, which they described as rushed.
"We also seek the Government to significantly up its game in providing information to the public on why it believes the reforms need to happen and what the effects of the reforms on councils and communities will be," they said in a joint statement.
https://www.stuff.co.nz/national/126182090/more-south-island-mayors-join-call-for-minister-to-halt-water-reforms
Waimate Council recently had a public meeting, with 350 people attending. That's a hell of a lot of people in that small town. Here is what Farmers Weekly reported this week:
A call this week by Canterbury mayors for the Government to pause its three waters reforms is likely to be echoed by other South Island councils, Waimate Mayor Craig Rowley says.
He says a recent meeting organised by council to inform ratepayers of the reforms, attracted 350 people, materialising simmering public concern about the proposal to transfer delivery of three waters services from local authorities to four public entities across New Zealand.
The proposed policy suffered a setback on Monday when the Canterbury Mayoral forum, representing councils from Waitaki to Hurunui, asked the Government to pause the reforms to allow consultation and to take account of other changes.
That included allowing the new water service regulator, Taumata Arowai, to be established, and clarity provided about the standards and approach required from the proposed Economic Regulator.
Despite the Department of Internal Affairs advising against councils holding public consultation until definitive information is available, Rowley says it was decided their 8500 people needed to be informed of what council knew.
A typical consultation meeting would attract 20-30 people, but the turnout shows the Three Waters proposal is topical.
"It tells me exactly what I knew, that this is a really topical subject and people are really concerned about the proposal," he said.
The meeting revealed concern that the Water Services Bill requires schemes supplying two or more users to meet water quality standards, while the Three Waters proposal could mean a loss of control, uncertain service and cost.
Far North Council provisionally opts out of reforms:
Far North District Council is rejecting the Government's Three Waters restructuring plans.
The council on Friday voted to provisionally opt out of the restructure.
Far North mayor John Carter says "a number of concerns" included a lack of clarification of the costs of restructuring, and fears people of the Far North would pay massive water bills in the future.
The Government wants to put Far North District Council (FNDC), Whangārei District Council (WDC), Kaipara District Council (KDC) and Auckland Council's drinking water, wastewater and stormwater functions into a giant top-of-New Zealand entity.
Carter, a Local Government New Zealand (LGNZ) board member, said an increasing number of these councils around the country had approached him with concerns, which he would be taking to the next LGNZ board meeting in Wellington.
6. Whangarei were the first out:
Northland's three waters reform has been thrown into disarray after Whangārei District Council yesterday became the first council in New Zealand to reject the Government's three waters restructuring plan.
WDC councillors unanimously voted at a council meeting yesterday to provisionally opt out of current three waters reforms.
The area which started the whole reforms are concerned with what is being proposed:
Here's a report on the Hawkes Bay Council's response to the proposed reforms. It is interesting that the report covers the local Iwi being unhappy. The Chair of the Regional Council was a Labour MP at one stage in his life:
Mayors, Councillors and iwi representatives from Wairoa District Council, Napier City Council, Hastings District Council, Central Hawke's Bay District Council, and Hawke's Bay Regional Council met on Monday to discuss Government's three waters reform package and what it could mean for Hawke's Bay's rural and urban communities; and to agree an approach to addressing the collective concerns of all five councils.
Mayors have since written to Hon Nanaia Mahuta, Minister of Local Government, requesting further information and setting out why Government's proposal, as it stands, will not satisfy the three waters service delivery needs of Hawke's Bay.
"We share Government's ambitions to significantly improve the safety, quality, resilience, accessibility and performance of three waters services in a way that is efficient and affordable for our communities and all New Zealanders."
"However, localism is important to us and part of our success as a region – local planning, local decisions and regional cohesion. Hawke's Bay can demonstrate tangible success locally and regionally – achieved through the power of community action via civic leadership."
"We are not convinced that what Government is proposing will allow for us to continue meeting our commitment to ensuring three waters services contribute to the Hawke's Bay region's social, economic, cultural and environmental prosperity." says Ms Hazlehurst.
"Nor are we convinced that Government's proposal would mean we could maintain the capability and the capacity to deliver quality sustainable planning, management and operation of three waters services for our communities."
Rick Barker, Regional Council Chairman says councillors and council iwi representatives across the region share concerns that Entity C (the multi-regional entity, which would be responsible for Hawke's Bay three waters service delivery under Government's proposal) does not reflect geographies aligned with Ngati Kahungunu iwi affiliations, meaning the identity of mana whenua in Hawke's Bay is likely to be lost in the proposed governance model and would not provide opportunities for Māori to contribute to decision-making.
"That is why we are asking the Minister to engage with our iwi Chairs directly." Mr Barker says. 
"We are also asking Minister Mahuta for the opportunity to consider our Hawke's Bay regional option."
"Experience has shown us that when working together and to our respective strengths, local and central Government and iwi can complement each other to deliver better outcomes for all."
The Government is very thin skinned over any criticism about reforms:
In Spinoff this morning they wrote about reporters and the public questioning the Government on Covid 19 responses.
Good science has been at the core of New Zealand's successful Covid-19 strategy. Good science is not born out of acceptance or complacency; it's reliant on the constant challenging and questioning of ideas and approaches, to get the best possible outcome. The same is true for public health policy and political responses.
If we apply this statement to how many are critical of the water reforms it seems petty when:
Local Government Minister Nanaia Mahuta accused the group (of West Coast Mayors) of "playing political games".
It is essential that the proposed reforms are challenged. They have been badly thought out and deserve questioning.
The West Coast Mayors questioned the Scottish Water model on which the proposed New Zealand water system will be based. This isn't politics, Minister Mahuta, this is just critical analysis. Especially when the BBC report on Scottish Water said:
The number of recorded sewage spills in Scotland's rivers and seas has increased by 40% over the last five years, new figures show.
Scottish Water data shows the equivalent of 47,000 Olympic-sized swimming pools worth of waste has been discharged since 2016.
Campaigners are calling for more action to tackle the water waste issue.
But Scottish Water has warned the problem will not be solved by "building bigger and bigger sewers".
When there is heavy rain parts of the sewer network simply cannot cope.
Scottish Water is not responsible for all sewage systems. However, they monitor the 97% they are not responsible for.
Sewage overflows occur with every water system. They are regrettable but a fact of life. These NZ proposed system reforms were based on Scottish Water and how great their systems are compared with New Zealand.
Ministers and officials were encouraged by WaterNZ to travel to Scotland to visit their systems. They fell in love with the Scotty accents and came back mesmerised by their experience. Read the BBC article again:
The number of recorded sewage spills in Scotland's rivers and seas has increased by 40% over the last five years, new figures show.
Scottish Water data shows the equivalent of 47,000 Olympic-sized swimming pools worth of waste has been discharged since 2016.
These reforms will not necessarily address the sewage in the water issue. That's an engineering challenge which must be faced every Local Authority. By taking an expensive route and proposing to restructure the whole country will not make the raw sewage go away quickly.
https://www.scoop.co.nz/stories/PA2107/S00119/speech-to-lgnz-conference.htm.
Scottish Water was held up as the model for us to copy:
Scottish Water was engaged to review New Zealand's water systems and RNZ reported:
Water reforms in Scotland are held up as the model. There, per-unit costs of water had nearly halved since 2002 and the average household Three Waters bill was $NZ750.
Services in New Zealand would only have to become 15 percent more efficient for councils to win out financially from the reform, the Scottish commission said.
Its report for Taumata Arowai, the water regulator set up in 2019, put the onus on the government, not councils, to make the big calls, about how prices would be set. It asked: "How much regional variation in charges is acceptable?"
Should it be purely user-pays or "should there be a social cross subsidy?"
"How will charging policy impact on creating the right incentives to deal with adaptation to climate change?"
Among the critical factors a reform had to get right were scale, management, and environmental regulation, the commission said.
Whether water services were privately or publicly owned was not necessarily key, and Scotland had "proven that public ownership is no barrier" to top performance.
"Assuming similar approaches to governance and regulation and effective management, there is no obvious reason why New Zealand cannot at least match what has been achieved in Scotland," it said.
Here's a picture of raw sewage in the streets in Scotland: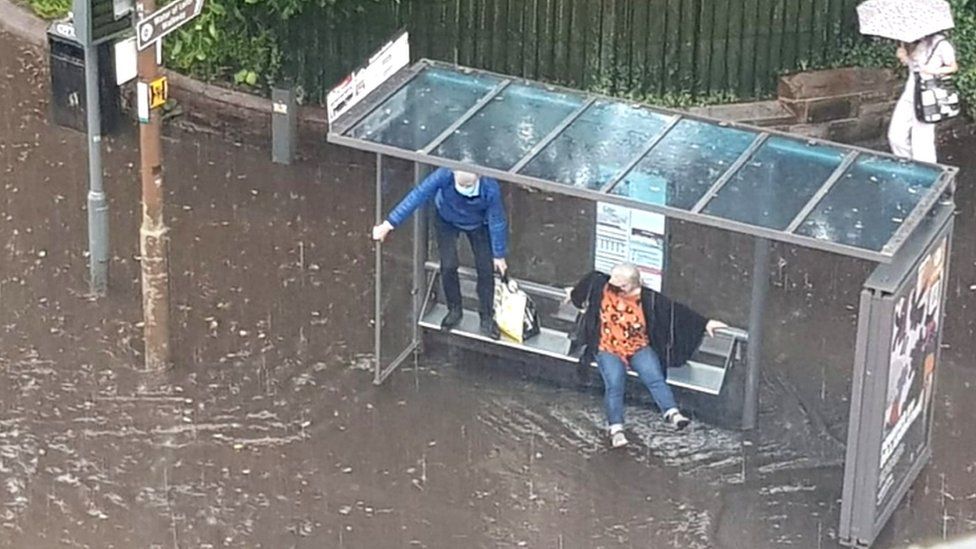 Why do we continue to view overseas models as being the only way for us to look at ourselves?
These reforms were initially promoted vigorously by WaterNZ. Have a look at WaterNZ's website. Of the board of 7, five are from private sector. These reforms will provide an immensely deep trough for the private sector to point their snouts. To say nothing of the large accounting firms whose reports are written to say whatever their clients want them to say.
Consultants see these as a huge opportunity for fees. Many engineers see this as a chance to move massively up the salary scale, currently not possible in Local Government. Just as the energy reforms did a couple of decades ago.
These reforms will add hugely to the cost of providing the three waters infrastructure in New Zealand.