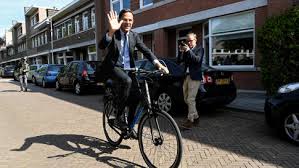 Mark Rutte, the prime minister of the Netherlands, chooses to travel into his office by cycling, if the weather allows. While this isn't far from the famous perception of the Dutch and their love of cycling, there is a lot of context behind their fondness for the mode of transportation. Even when cars and other modes of transportation are available, more than a quarter of all trips in the country are made by bike. From the country's flat landscape and roads designed to accommodate cycling, to the health benefits of riding a bike, Ecowatchdetails the reasons why Rutte and the Dutch love using their bikes:
"I didn't cycle a lot for 10 years. But for the past two years, I've had my own bike again and, when the weather allows, I travel into the office that way," he told the World Economic Forum.
He explains why it's long been such a phenomenon: "The Dutch love cycling because we are a small country. We have to get from A to B. And, of course taking a car, yes, is an option, but you have congestion plus the environmental impact. From the old days, almost from the late 19th century, we're used to taking a bicycle."
There are more than 35,000 kilometers (21,750 miles) of cycle lanes and the city of Utrecht is home to the world's biggest underground bike park.
The health benefits of cycling are well-known: it reduces the risk of illnesses such as diabetes and cardiovascular diseases, and can help boost mental wellbeing.
A 2015 study found more than 6,000 deaths in the Netherlands are prevented each year due to cycling, and it adds six months to the average life expectancy.