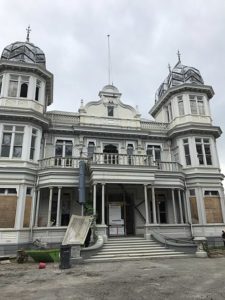 Another one of those 'old dungas' is McLean's Mansion. I find it amazing how many people aren't aware of the place, it being reasonably central (just south of Bealey Ave) and having not one, but two street frontages (Colombo and Manchester streets). But it's a wee way back from Colombo, and the main entrance off Manchester Street is hidden behind mature trees. It should be well known since it is New Zealand's largest wooden residence.
It's huuuuge and has – wait for it – 53 rooms and a floor area of 2,100 sqm! It was commissioned by a 78-year old bachelor, Allan McLean (of McLeans Island fame). It's the product of our political history, where the Liberal Government during the 1890s forced the wool barons to sell their land under the Land for Settlements Act 1894. McLean's landholdings were the second largest land purchase made by the Liberal Government (the Cheviot Hills estate was the largest). It turned McLean into a rather grumpy man but he built his oversized mansion so that after his death, it would provide "a home for women of refinement and education in reduced or straitened circumstances".
Holly Lea, as the house was originally known as, still exists as a rest home on Fendalton Road and it's where the trust moved in the 1950s when they sold the mansion. To me, heritage buildings can tell you much more than built history, but it's also often a reflection of political and social history, too. McLean's Mansion is a prime example of it.
As such, I'm glad that the attempt to push this building over after the earthquakes was scuttled by the courts. In 2016, a trust took on the building and the huge liability that comes with having to restore it. Emeritus Professor Chris Kissling, who many of you will know, chairs the trust. Last weekend, they had open days and offered guided tours through the front part of the mansion. Renovations are well underway. Vandals who had moved in after the earthquakes did a lot of damage but the huge graffiti that they left behind in the staircase is being considered to be kept as it's now part of the building's history.
If you've got a spare six-figure sum of money that you don't know what to do with, give Chris a ring and no doubt he will have some ideas.

Let's have a Wikipedia workshop on heritage buildings…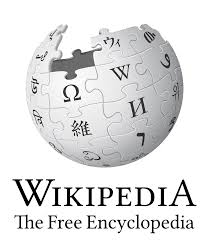 If you'd like to know how editing Wikipedia works, this will be for you. And if you have an interest in heritage, that's better still. A few of us knowledgeable Wikipedians will get together to show newbies the ropes, ably assisted by someone from Heritage New Zealand (attendance not confirmed yet) who knows all about the heritage aspects. And the workshop venue is one of your favourite hangouts:
Workshop at Smash Palace
Monday, 18 November at 7pm
Details are online.
In February 2011, not long after the February earthquake, our Canterbury Earthquake Recovery minister went on record by proclaiming, "My absolutely strong position is that the old dungers, no matter what their connection, are going under the hammer." And with that, much of our built heritage disappeared. But quite a bit is still around, some of it having been lovingly restored, for example Shand's Emporium. Much of the built history, whether demolished, still to be repaired, or in perfect nick again, doesn't have a good online presence. Wikipedia would be the ideal site to showcase what's been or what we still have, but how do Wikipedia articles come to be?