You may not know Huanui Lane and if you do, you might be wondering what it's got to do with those big topics of our time. Well, hear me out.
Huanui Lane got built as part of the East Frame. It runs between Armagh Street and Lichfield Street some 50 m east of and parallel to Manchester Street. It's reasonably lovely already. It will presumably be very nice once it's not bordered by a wasteland along much of its western side. I can't wait for buildings to start going up along Manchester Street. Then it will form a pleasant inner-city park, with the lane itself a nice corridor for ambling along.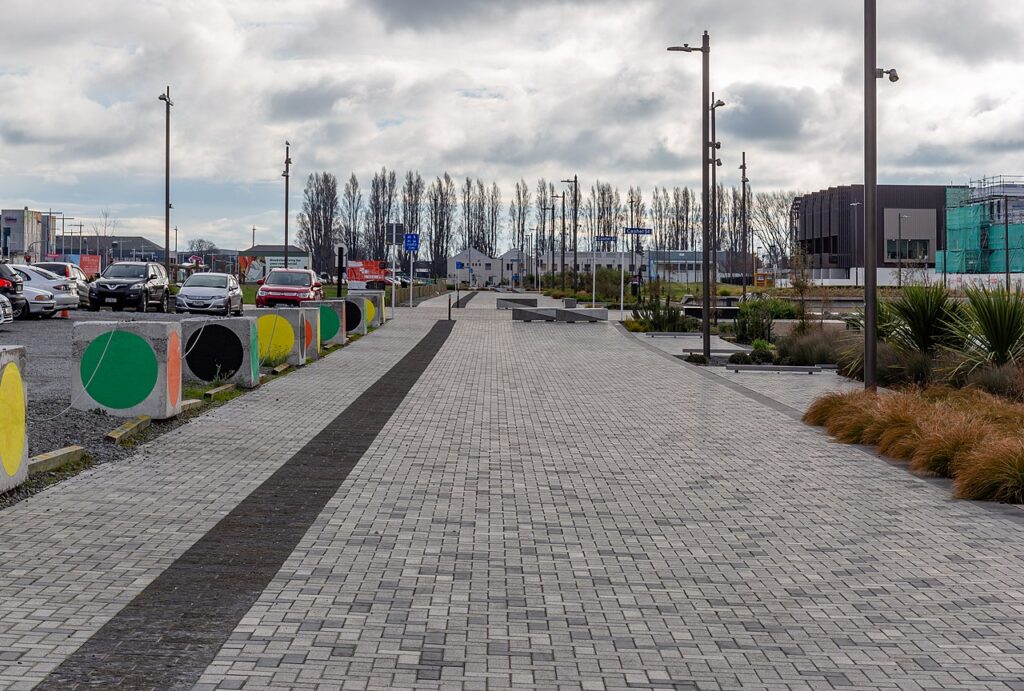 Climate change
But let us talk about the big topics. Climate change is one of them. Anything that we do ought to be looked at from a climate change perspective. We won't get on top of this through business-as-usual. It is not something that individual action will fix; far from it. It needs institutional and political leadership so that individuals be given both meaningful opportunities and strong incentives to change their behaviour. Those elected members for whom climate change is not the key issue should get dropped at the next election. But make no mistake; don't go by what politicians say; go by how they vote.
Anybody on the city council in support of Tarras Airport does not deserve to be there, as they are stealing from current and future generations.
A world where we take climate change seriously will look and feel different. As just over half of Christchurch greenhouse gas emissions come from transport, it should be obvious that future transport will be different from what it is in 2021.
Mass rapid transit
This week, we learned that Greater Christchurch's elected leaders are mulling over the options that come out of the long-awaited mass rapid transit work. In that clip, Transport Minister Michael Wood (for whom I have a lot of time, I shall say) stated that we have to make a significant transition of our light vehicle fleet, "and it's underway now". I could not help but think that yes, we are rapidly moving to double-cab utes (I've seen photos of the Auckland wharf where vehicle imports land, with 80% of them being big utes). Our light vehicles are getting bigger and heavier; the exact opposite from what's needed and what our minister had in mind when he was speaking.
But back to mass rapid transport, the study is somewhat late; it's part of a bigger piece of work (I've written about that before) that had been split off and delayed for political reasons (the call on that was made in Wellington). That the minister still has to wait two more months before he will receive the final report says quite clearly that our regional leaders cannot agree on what they want. I can sense that the city and the adjacent districts are pulling in different directions, without the regional council being able to give them some direction.
Mass rapid transit (MRT) is about public transport vehicles running on their own corridor unimpeded by other traffic. This can be by buses (think, for example, of the Northern Busway on Auckland's North Shore) or trains (be it light or heavy rail). Painted bus lanes do not meet the definition of MRT; hence Christchurch does not have mass rapid transit.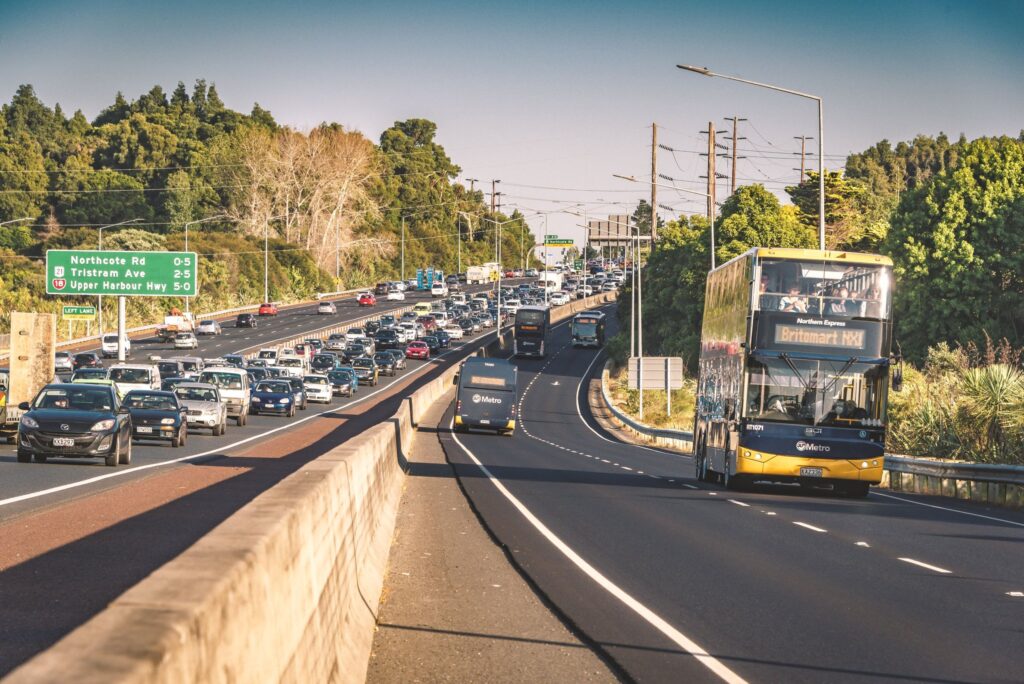 I often get asked whether Christchurch is even suited for passenger rail. My standard answer is that there are three components to it:
Is our population high enough?

Yes, it is. Only just. But it is notable that Greater Christchurch is the largest city in Australasia without an MRT system. There are places with successful systems that have a similar population or are smaller, e.g. Canberra (pop. 430k) or Newcastle (pop. 320k).

Do we have enough density?

We aren't good with building dense in Australasia, but there are other places with low densities like ours that have made it work. Importantly, rail-based passenger transport is likely to result in much higher density along those corridors over time (some of which is likely to happen quickly), which is a land-use effect that you will never get from bus-based rapid transit systems.

But driving is easy, why would people change?

Well, that is also my biggest concern. To make this work, driving has to become less appealing. The easiest thing to change that people immediately notice is parking management. And in this area, the city council has no track record whatsoever. You will never get an MRT system well used when driving remains as easy and convenient as it currently is.
Parking management
Hence, I have reservations about MRT for Christchurch, as the city appears unwilling or unable to implement meaningful parking management, although we've had the right policies in place since 2003 (they just never got implemented). Unlike Wellington, where parking management has been in place and done well since the 1990s, or Auckland, where they have made significant progress and are rolling out residential parking permits area by area to give locals preference over commuters. And guess what? Many of those commuters switch to public transport instead.
Queenstown showed us in late 2017 how much of a change can be made. When they introduced parking charges for commuters and used the income for a vastly improved public transport offering, they tripled bus use within a few months to a rate that is higher than what we have in Christchurch.
Parking management is fully under the control of the city council. In my view, they are doing a super-poor job, because they aren't actually managing much. What they should do is charge for parking to the extent that in anyone area, there is enough space left over so that illegal parking (double-parking, on broken yellow lines, across footpaths or in other people's driveways) isn't necessary. It's good for business to do so; no business gets any benefit from their employees taking up all the on-street parking. This isn't something needed just for the central city but wherever parking demand is above a certain threshold (e.g. where more than 80% of the available parks are regularly full). And the income could be given to the regional council for public transport improvements just as they do in Queenstown. It would do wonders…
I've given many a presentation on parking management and once you spend 20 minutes or so explaining to an attentive audience how much an impact parking management has on people's transport choices, people are generally amazed. And to demonstrate how poor a job is being done in Christchurch, I have a slide that shows the closest all-day free parking from the centre of Cathedral Square. It's incredible that in the street along Latimer Square, within just 430 m from the centre of Cathedral Square, you can park all day for free; you just have to get there early enough to score it.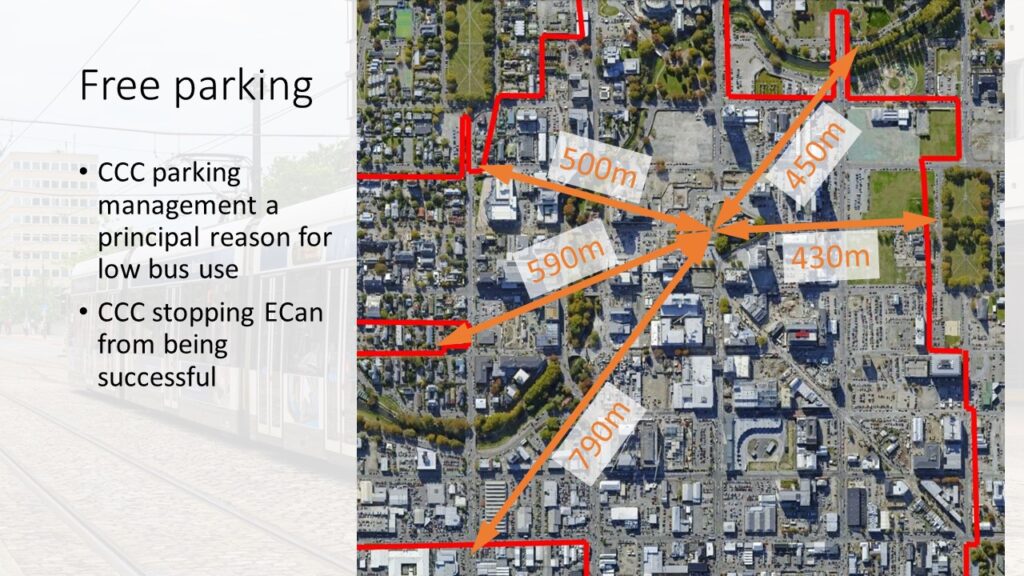 Huanui Lane
But instead of things getting better, it's getting worse. I have to update the above graphic, because people have moved the concrete barriers out of the way and for the last few weeks, they've been parking in Huanui Lane. And the city council appears to be doing nothing about it. So the closest all-day free parking is now within 310 m from the centre of Cathedral Square. If a city council cannot even get such basic things under control, what chance is there that we will ever have a meaningful parking management system in place? Something that I believe is absolutely essential for getting an MRT system that will be well used? Something that must happen if we want to see transport emissions decline?
If Huanui Lane is indicative of the bigger picture, I'm afraid that with the current city council administration and/or our elected representatives, climate change isn't going to be tackled anytime soon. I therefore have little faith for mass rapid transit to be successful under these circumstances.