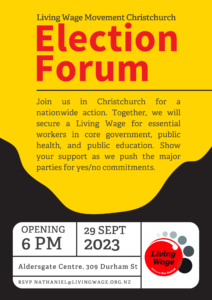 When: Friday 29 September, doors 6:00PM, starts 6:15PM, closes 7:30PM
Where: Aldersgate Centre, 309 Durham St
An incoming government can make sure public sector workers are paid a living wage. At our Election Forum, we're asking political parties to keep paying a Living Wage to core public sector workers, and to extend a Living Wage to workers in publicly funded education and health. This includes school cleaners, hospital orderlies, and aged care support workers.
Join us to hear stories from the grassroots, share kai, and show solidarity with essential workers. This is a nationwide event: forums in Christchurch, Auckland and Wellington will gather at the same time, connected by video-link, to show political leaders the breadth of support for Living Wages. More info at www.livingwage.org.nz/election23.