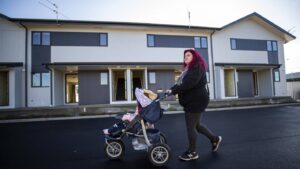 I'm fed up with the two biggest political parties playing games with housing. I say this to them both. Stop it. Stop the pettiness. Be brave. Change your dialogue. Give the little person a fair suck on the sav. It is possible for us to achieve, with a population our size, decent housing for all. During Covid 19 everybody was housed, because there was a commitment by all parties to protect everybody; including our most vulnerable. We showed that with a commitment it is possible. Where's that commitment now? Politicians, move beyond your current ridiculous level of debates and work together on a solution. Let's make housing an apolitical issue.
What sparked these thoughts was hearing the latest leader of the National Party state this week that she approved selling State Houses to the Community Housing Sector. This caused me to despair about how the dominant political parties in New Zealand are continuing to use housing as a football. The National Party has been selling State Houses since the 1950's. Their then leader described NZ as a "house owning democracy". The Labour Party subscribes to a dogma that the state knows best and that they will build houses, but that they must be state owned.
Both of these mantras are partially correct. However, as they chant every politician points their finger in the direction of the opposite party and says "we are better than them". They then blame Local Government, the RMA, or whatever comes to their mind first and suits them.
This week Spinoff printed this article by Mike Fox https://thespinoff.co.nz/society/11-07-2020/why-is-it-so-hard-to-build-affordable-housing-in-new-zealand/. Mike is a house builder and what a refreshing article it was with gems like this in it:
In New Zealand, we've been building a disproportionate oversupply of expensive larger homes with the greatest area of demand – affordable homes, hardly catered for. This needs to change, and quickly. However, if we continue to follow the same regulatory processes, how can we expect a different outcome? It just won't happen.
If we want affordable housing, we need to produce affordable land free of inflationary minimum-size and design-restrictive covenants.
In reality, these covenants are put in place by developers to raise the price of subsequent section releases. They cut out a large portion of buyers who might be wanting a smaller, more efficient home. Any meaningful changes will come about under current systems only by sidestepping the market and some of the feel-good niceties of planning and simply getting on with pragmatically producing the housing, and centrally funding the infrastructure needed.
If the politicians have not got the wisdom or courage to change the rules that have created this mess, perhaps they should develop their own land that can be used for affordable housing. Previous governments have successfully done it before.
The important point made by Mike Fox is that Governments have the capacity to develop their own land to be used for affordable housing. As he said it's been done before. What's stopping that happening now?
The Government needs to create advisory structures, alongside their bureaucratic advisors, with skilled people who can advise on solutions which will break the current impasse. Then real leadership will act on that advice. The current Minister has shown no interest in operating this way. She scrapped an advisory panel which Phil Twyford had put in place with a number of skilled people on it advising him. She has also turned her back on funding packages for Community Housing providers. She appears to be of the belief that the state knows best. If only, Megan. If only.
The Govt will take many years of building new State houses to get from its current level of around 3% up to the OECD average of 6%, which would better match local needs. In the long term a far greater supply of new affordable housing is critical.
"Affordable housing" homes are ones that people can actually afford – based on them paying no more than a third of the income on housing costs (mortgage or rent). Affordable housing is never provided by the open for-profit market – because making it affordable means a focus on social outcomes, rather than extractive financial profit.
Affordable housing is often provided by the ethical and socially minded third sector. In New Zealand as in the UK, Australia, Canada and many other territories that means the Community Housing sector.
After some years of fair and reasonable growth the 60 or 70 registered Community Housing Providers (CHPs) in Aotearoa are struggling to get access to the finance they need in order to turn their current pipeline of over 3000 unbuild houses into homes for those who need them. This is not the impression which most people will hold.
The reason why this has occurred is that during the term of this current Government the Community Housing Sector has been undermined, and not supported with resources. Most recent material examples of that relate to the nature and terms of the Income Related Rent Subsidy (IRRS) contracts put in place with CHPs to take people off the MSD waiting list and house them.
CHP's have been hit with shorter contract period terms, 90-day contract cancellation clauses, and other aspects that remove certainty and security. This has meant that Banks are less and less willing to lend the critical finance to the CHP sector. This finance is needed to create new supply and 'keep things moving'. The Community Housing Sector risks stalling at a time when we need all our best players off the bench and in the game. The solution is in the Government's hands right now.
Another point made by Mike Fox was:
Although well intentioned, the RMA has morphed into a major stumbling block. It's project specific and has no consideration as to what the community actually needs to house its people or what its impacts are on the financial viability of a project.
It is heavily weighted against the party wanting to do a new project. The applicant is made to feel guilty until they can prove themselves innocent. The surrounding homes seem to have an inordinate amount of say and councils often pander to spurious objections.
It's a cost-plus model with the first person purchasing paying the bill for infrastructure, GST and all manner of other local council fees. The RMA, along with the 70-disjointed individual council district schemes, is an unsustainable model.
In addition to issues caused by the RMA, since the introduction of the Building Act 2004, construction costs have soared, and productivity has plummeted.
Why? Considerable administrative process has cumulatively been forced into place, but it adds very little material value. Risk-averse behaviour has turned once helpful local councils into gun-shy, chicken-little organisations slowing construction down and demanding consumer money be spent to absolve themselves of liability.
This is an interesting observation. An answer to part of this is that under the liberation of rules, a couple of decades ago, we ended up with thousands of "leaky homes". When people looked around for assistance the architects who had designed the houses, and the builders who had constructed them, were nowhere to be seen. The only ones standing were Central and Local Government. The rules for construction had been written by Central Government, and Local Government had monitored them. That's one reason why Local Government is so risk averse with their building inspections. When we built a new house post-quakes, we relied on the Building Inspectors to protect us from a dodgy builder. They perform an essential role.
This week the National Party leader signalled a desire to scrap the RMA and replace it with other Acts. Why don't our political leaders work collaboratively with this essential change in our legislative framework? They all accept there is a major problem.
Mike Fox also wrote some good stuff on this matter as well:
In the last 15 years, the cost of building has increased 110% while the general cost of living has increased only 44%. Much of this extra cost is the result of compounding regulatory change, council fees and unfairly imposed infrastructure cost.
We need strong leadership, meaningful change and a complete overhaul of the RMA, the Building Act and the Local Government Act so that the drivers and outcomes result in efficient, affordable and sustainable housing.
Change will happen only through collaboration between industry and policymakers, but there must be a catalyst for change. I believe we have reached that tipping point. One would also hope housing can be depoliticised and an across-party accord could be reached.
Housing is too important an issue to be used as a political football. Recent events have opened the gates of pragmatism and we should take this opportunity to improve things for the industry and the people of New Zealand. A full review of the governing acts should be undertaken, and if regulation doesn't help the delivery of affordable healthy housing or make the industry more productive, the time has come to ditch it.
How long do we have to put up with the "the last Government put us in this mess" type of bottom of the birdcage level of debate, by both major parties? Why don't politicians stop thinking about being in power, and instead create processes which will ensure that change takes place?
Is this Government capable of leading in a similar manner to the way they have so ably lead us through the disaster Covid 19? The current Minister has demonstrated leadership, often by being good at removing difficult issues out of the media. Would she be prepared to take the next step and create a framework which designs a whole new platform to produce affordable houses? Is the National Party prepared to change its aggressive, 19th Century approach to confrontational politics and work collaboratively on an essential exercise which will give all New Zealanders the right to a home?