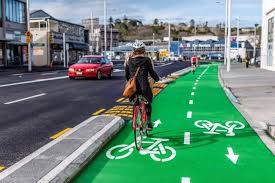 In the Press recently there was the sort of futile debate which public figures seeking publicity specialise in. Sam McDonald, to back up his central government National party mates, has had another go at funding for cycleways. I have no time for the anti- cycleway debates as they are divisive and unnecessary. We need to invest heavily in cycleways, for the good of our people, our cities, and our planet.
I would recommend to Sam that he takes a ride on a bike somewhere and then let's test if he still feels anti cycleways. I think the campaign by those against cycleways is pathetic dog whistling.
Let us consider the argument in the Press which quotes Sam:
Councillor Sam MacDonald said in a Facebook post that the controversial Harewood Rd cycleway could be scrapped, and therefore $10 million of taxes – the amount of Government funding for the cycleway – would not be needed.
Funding of the $19m, 4.5 kilometre Wheels to Wings cycleway on Harewood Rd is expected to be split between the city council and Government, with the latter providing up to 51 per cent.
The Government's share of this funding would come from the National Land Transport Fund (NLTF), which is used to fund transport projects nationwide.
Well, let us consider the response from Waka Kotahi rep, James Caygill about whether this would be a saving:
Asked about MacDonald's idea, New Zealand Transport Agency Waka Kotahi regional relationships director James Caygill said if the cycleway was scrapped, the fund's cash would go to the next cycleway on the list.
So, basically, and Sam would have known this already, he was speaking through his arse. This would not have saved any money. It was just about successfully producing another headline which advances his name recognition.
The cycleway in question is in Harewood Road. There has been much debate about this proposed project. Controversy is absolutely fine, as in the middle of any debate like this there will be a solution. I'm sure a sensible solution will be found if both sides of the debate listen to each other and strive to find solutions.
Unfortunately some of those who support cycleways around the Council table also get into combative mode against anybody who disagrees with them or has alternative suggestions. This creates a win or lose setting while debate can be healthy and can often produce excellent alternatives. Let's collaborate for better outcomes.
Here's the Press article on the latest debate on cycleways Councillor's idea for lowering petrol prices labelled 'misinformation' by colleagues | Stuff.co.nz
The promotion of massive extension of cycleways is fundamental to our, and our planet's, future. It must be undertaken in a sensitive and thoughtful manner. There is a terrific amount of information on their expansion. Here is one:
Timothy Welsh in the article Burying Our Heads in the Sand on Oil Crisis | Newsroom wrote:
Our time to head off this latest oil crisis was 70 years ago, then it was 50 years ago, then three decades ago or even 15 years ago. But it seems we once again are destined to bury our heads in the sand and wait for prices to settle down once more. If we ignore history again, we face our way of life also becoming history.
Those with the power to do so must recognise the significance of this moment and be willing to make the difficult decisions now so that our children won't have to spend a lifetime moving through one oil crises after another.
Also let's focus on public transport:
Instead of arguing about cycleways, and rubbishing public transport, our councillors must devote their minds and hearts into getting an integrated transport system planned for Greater Christchurch. In an article in Newsroom https://www.stuff.co.nz/the-press/opinion/128051675/christchurch-must-invest-in-high-quality-public-transport. Tom James from the Helen Clark Foundation wrote:
The Government has signalled it is keen to progress with Christchurch rapid transit and a recently released Cabinet paper notes it expects to have options before Cabinet by year-end. This means the Garden City could have a plan by early next year. This would be a great outcome and give businesses and communities time to prepare.
While the discussions have been focused on opportunities to progress rapid transit, I want to acknowledge that Greater Christchurch continues to look to bring forward bus network improvements. The package of improvements includes increasing the frequency of services, and dedicated bus lanes to make services quicker. These are exactly what the city needs to reduce emissions and traffic while rapid transit is being progressed.
I urge the Government and regional leaders to get together and roll this out as soon as possible, especially as Christchurch is the most car-dependent of our major centres. Across all the transport initiatives, I ask that central and local government work together with the community to deliver the world-class public transport Cantabrians deserve and the climate needs.