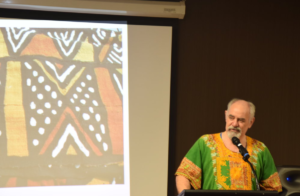 In this article Patrick O'Connor argues that it is essential that we advocate for those who are migrants in this country. Every single person in New Zealand is descended from a migrant. We have a responsibility to remember our own tupuna. Where did they come from? What struggle did they have to get here? Who befriended them when they got here?
Maybe it's our turn to become the advocate for those who currently sit unable to confirm that they can stay. Here's Patrick's article:
People of scores of ethnicities from countries all around the world, contribute daily to New Zealand's economy. Many are not permanent residents or New Zealand citizens. Most would like to become so!
The majority hold legitimate aspirations to attain such status, generally via Government indications or advice from advisors — official mostly, or sometimes masquerading as credentialed private advisors.
All United Nations Mandated refugees are automatically New Zealand Citizens from the day they arrive in the country.
About 250 ethnicities dwell in NZ. In Christchurch alone the total is approx. 200 ethnicities—- to be verified once the census figures are confirmed. These people contribute significantly to the nation's fiscal health —- and much more. They contribute to the vivid multi-cultural tapestry that is contemporary Aotearoa/NZ.
I strongly concur with the very recently expressed views of economist and social commentator, Bernard Hickey, and several others, in their critical observations of New Zealand's treatment of jobless migrants (guest workers) in the current Covid-climate. It need not be complicated. It ought not be a vexing conundrum. There is no doubt we as a nation should provide assistance universally, to disenfranchised people, regardless of their current resident status — simply on the basis of their demonstrable contribution to the nation.
There is quite justifiable broad acknowledgement that Jacinda Ardern and, generally, her government are progressive ideologues in many ways. Her, and most of her colleagues, leadership during Covid 19 and back to March 15th, has been exemplary. But being progressive and inclusive is multi – dimensional and inherently demands consistency. Responses should be well conceived, accurate and fair and need to relate to the needs of all people who contribute to the socio – economic health of the nation, especially those marginalised by circumstances beyond their control i.e. look after the WHOLE TEAM.
Every member of the " Team of 5 Million "deserves assistance. TEAM (Together Everybody Achieves More) is an acronym of relevance and salience in the circumstances under discussion presently. The Team captain, co vice-captains, coaches, advisors and the whole 9 yards, need to be respectful of ALL the players in the TEAM. In this context i believe this approach is currently not happening. Are the constraints pragmatically driven by coalition government dynamics? The PP factor — Political Pragmatism — whatever — but it's creating a significant volume of victims. The" rainy day " has arrived for tens of thousands of team members.
Ardern's mana and the positive kaupapa of her team is fairly recognised nationally and indeed internationally. The wairua of manaakitanga is also a part of tikanga the government appear to subscribe to —- mostly! But to claim to practise manaakitanga or accept acknowledgement for adherence to the cultural concept, is to exemplify its principles as universally as possible. It can't be part time. Like there's no such thing as being " a little bit pregnant ' Many in the Team in my view are languishing on the side-lines. They are needed to get us over the score line.
The guest workers include another significant cohort — international fee-paying students –contributing $500 million to the motu's economy. They are permitted to work 20 hours per week and many do. Most economists agree that the " multiplier " –i.e. – additional dollars expended in the community economy for every $ paid to a learning institution, is approximately $7. Estimates vary between $5 and $9 per dollar of fees. So, the maths is plain — if a student pays, say, $10,000 to an institution for a course, the community benefits to the tune of $70,000 via GST, income tax, levies, rent, food, entertainment, general retail, tourism etc.
It should be acknowledged that this cohort contribute very significantly to our fiscal, social and cultural profile/ economy in a way that many export industries do not, to the same extent.
Many guest workers are performing jobs that are challenging and lowly paid. To neglect them when the head wind has arrived is not fair — as is the well documented, and fairly challenged, case across the ditch in the West Island where Kiwis have been left high and dry! A fair proportion of the cohort here believe they are in, or could be in an excellent position to seek and gain permanent residence — of course many wishes to dwell here and have proven their credentials.
Challenges naturally exist for the government and society in balancing the needs of our established   population of citizens and permanent residents, but the formula and tikanga of manaakitanga should be applied respectfully to our guest workers and students.
Their security and welfare must be viewed from the perspective of being an INVESTMENT not a COST, underpinned by the wairua of decency.